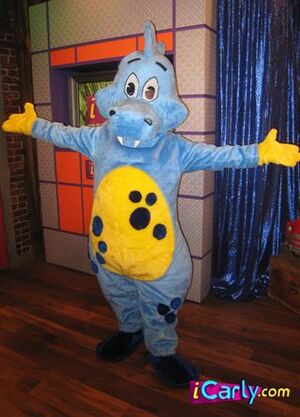 Zeebo is a TV character featured in the episode iCarly Saves TV.  He is a parody of Barney.
When a TV network producer tries to turn iCarly into a new hit TV show, he makes numerous questionable decisions, one of which is to introduce Zeebo the dinosaur because of test research showing that kids love dinosaurs.
Zeebo is actually just a man in a costume. Initially, he is played by a middle-aged actor whose claim to fame was appearing in a few episodes of the 1980s sitcom Full House. His tenure on iCarly lasts all of about two minutes before his attempts to upstage Sam and Carly - by butting them out of the way and saying, "And I'm Zeebo!" - during a rehearsal resulting in Sam beating him with a microphone. Zeebo is recast with Harper, a talented, cool and funny teenage musician who had originally been hired to provide music for iCarly until the producer decided to ditch the band in favor of more Zeebo. Harper is unenthusiastic about playing Zeebo, but plays along because of his contract.
Ultimately, the producer makes further changes to iCarly until it is no longer iCarly but a sitcom about a girl and a dinosaur, Zeebo being played once again by the original actor, along with Amber Tate.
Trivia
Zeebo is a spoof of Barney the Dinosaur, although he looks more like a dragon than a dinosaur.
Zeebo's Head looks similar to the Head of Konqi the Dragon of the KDE Desktop Environment.
Zeebo was also the name of Chase Matthews' hypothetical zebra from Dan Schneider's Zoey 101 (The Great Vince Blake)
Quotes
"And I'm Zeebo!"
"Awww, NOODLES!!!"
"Let go of my snout!"
Community content is available under
CC-BY-SA
unless otherwise noted.