I'm 14, I like playing baseball, I would say I'm in the middle of girly and tomboy, my favorite movie is 9, my favorite book is Emily The Strange: Dark Times, my favorite iCarly character is Sam, I'm a Seddie fan, I like to read horror stories, I also like to scare and annoy people often. I have a little brother and a dog called Fudge. I have an iPod Touch and enjoy writing fiction horror stories, I hate it when teenagers turn nerdy and stay playing video games all day.
I don't like it when I see episodes of iCarly that envolve romance and am not interested in the Seddie, Creddie war, my favorite episode is iWas A Pageant Girl because I really like seeing Sam look different.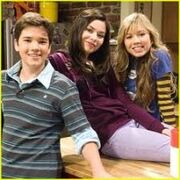 Community content is available under
CC-BY-SA
unless otherwise noted.