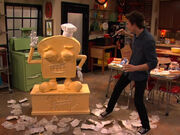 Toasty the Baker is the sculpture that Spencer was hired to create in iNevel. Spencer ended up having to make a second one since the first one melted.
First Toasty
Spencer purchased a lot of butter to make it (which Mrs. Benson could confirm, as she saw him carrying home tons of bags full of butter through her peephole).
This first Toasty the Baker was nearly complete, but then Sam turned up the temperature in the apartment, which had been turned down to prevent the sculpture from melting, and, of course, it melted.
Spencer had to make another one from scratch.
Second Toasty
Spencer bought more butter to make the second Toasty.
Community content is available under
CC-BY-SA
unless otherwise noted.