This article is about Gibby's girlfriend. For the girl from Ridgeway in iNevel portrayed by Nicole Anderson, please see Tasha (iNevel).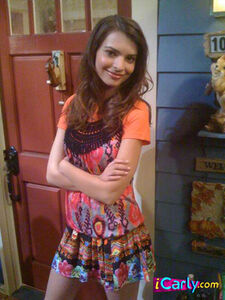 Tasha is Gibby's girlfriend. She is portrayed by Emily Ratajkowski.
Tasha first appeared in the episode 
iSpeed Date
. On the night of the Girls' Choice Dance at
Ridgeway High School
, Gibby was spending the evening at his home, on a date with Tasha. They hinted that they were making out.
She also appeared in iEnrage Gibby. Her relationship with Gibby was jeopardized when she accidentally fell on top of Freddie, causing Gibby to believe that she was cheating on him. At the end of the episode, they reconciled when Gibby learned the truth. Gibby really seems to show a lot of interest in Tasha
Several characters have argued that there must be something wrong with Tasha, because she has chosen to be in a relationship with Gibby. She also has low self- esteem, as mentioned by Gibby, as she also follows his orders. Tasha is visible as Gibby's screen background in iPsycho. 
Relationships
Gibby Gibson - (2009-present)
She cares a lot about Gibby and his happiness. Tasha may be jealous of Sam and Carly because they have known Gibby longer.
In iPity The Nevel, Gibby stated that he and Tasha aren't exclusive.
For more on their relationship, see Tibby.
Gallery
Click here to view Tasha's gallery.
Community content is available under
CC-BY-SA
unless otherwise noted.