Obi-Wan Finale - The Loop
Play Sound
"Okay, nobody calls me Terrence! I am T-Bo! T-Bo. I don't talk like this. I sling smoothies! I put food on sticks! And I like a lot of women!"
— T-Bo in iStill Psycho
Terrence Jeter "T-Bo" Bo[4] is an odd Jamaican man that worked at the Groovy Smoothie until at least 2012. He typically wears a bandana and is known for selling various types of food on a stick, like pickles, bagels, or tacos. Although he usually annoys people, he seems to be good friends with the iCarly trio.
By the revival series, T-Bo no longer works at the Groovy Smoothie as it shut down due to a giant rat problem, but it is unknown what happened to T-Bo.[5]
Biography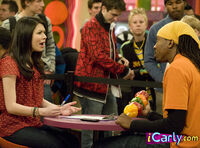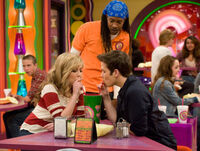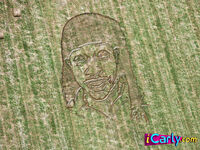 T-Bo is a Jamaican man who resides in Seattle, Washington.
He worked at the Groovy Smoothie. In an interview on iCarly.com, Boofus interviews T-Bo. T-Bo claims that he had worked at the Groovy Smoothie for a year. He also claims that he went to Boston University.[2] Gibby interviewed him and found out that T-Bo used to be a hand model.[3]
In an interview on iCarly.com, Sam says he is one of the managers at the Groovy Smoothie. We find out that before he started selling things on a stick, he sold things in buckets. He proved that food sold better on a stick because he tested it by first trying to sell bananas in a bucket and only sold a few. He put the rest of the bananas on a stick and sold the rest. It is shown that T-Bo can put almost any food on a stick. In iGot A Hot Room, he put hard shell tacos on a stick, which Carly could not do without breaking them.
Physical Appearance
T-Bo has braids and typically wears a bandana.
Personality
T-Bo is portrayed as rather eccentric. Despite working at a smoothie store, he is often seen was begging people to buy items on a stick that are not smoothies, such as bell peppers, bagels, donuts, turkey breasts, muffins, pot pie, yams and tacos. He enjoys asking people to buy these products at inconvenient times, and usually doesn't stop bothering them until they finally give in.
He is rather talented when it comes to putting food items on a stick. He even manages to put hard shelled tacos on a stick without cracking the shell, which Carly was unable to do. One time, he put a stick through the doughnuts instead of using the holes. In an interview with Sam, he says that he puts food on a stick because it looks better and creates more sales.
T-Bo is fascinated by extraterrestrial life, as shown on Carly's blog, and apparently wants to be abducted by aliens one day. When crop circles that looked like him were found in England, T-Bo made some special smoothies using "English ingredients" to celebrate it.
Relationships
(2009-Present; Friend) T-Bo gave Carly a job at the Groovy Smoothie on very short notice so that she could make some money her room burned down.[1] He was quite laid back and joked around with Carly.
T-Bo sometimes spends time in the Shay Apartment. However, after T-Bo accidentally knocked out Carly's date with a lemon launcher, destroyed items in her house and went to her house without invitation in the middle of the night, Carly banned him from the apartment. In retaliation, T-Bo banned her from The Groovy Smoothie. He eventually dared her to spend one night at the Bensons' apartment to lift her ban. After an overly healthy dinner, being sprayed with anti-tick gas and a fire drill in the middle of the night, Carly realizes how hard it is to live with Mrs. Benson and allows T-Bo back in her place. T-Bo also lifts her ban from the Groovy Smoothie.[6]
(2009-Present; Friend) T-Bo gave Carly a job in return for the favor Spencer did for his sister, despite the fact that his sister ended up in the hospital while working for Spencer as she fell off a ladder.[1]
Trivia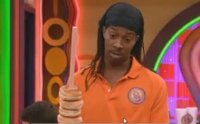 He seems to be good friends with the iCarly's as he was a guest at Carly's birthday party.
He is a skilled beatboxer, as shown in a clip on iCarly.com.
In this video on iCarly.com, T-Bo shows his terrifying birthmark to Sam, Freddie, and Spencer.
As of the episode iQ, he resides in "Bushwell Plaza" in Freddie and Mrs. Benson's apartment (after an eviction from "The Groovy Smoothie"), making him Carly and Spencer's neighbor as well.
T-Bo's name is similar to free agent quarterback Tim Tebow.
He appears as a Genie in the episode iApril Fools granting wishes for the gang as they reminisce on the past.
A girl named Porscha Sweet has a restraining order against him which says he cannot be within 100 yards of her.
In iGot A Hot Room, he hires Carly to keep her busy while Spencer, Sam, Freddie, and Gibby re-do her room.
It is revealed in an iCarly interview that T-Bo also has a collection of pens, some of them from significant moments in his life.[7]
In iSpeed Date, T-Bo is working the night shift and turns up the music after Freddie asks him to.
T-Bo once had a friend named Eddie Robinson who died after being hit by a bus.[8]
In iRescue Carly, T-Bo says he went to college.
It is revealed in i'M Wild and Crazy that by 2021 that T-Bo had to shut down The Groovy Smoothie as it had a giant rat problem, but it was never revealed what happened to T-Bo.
Quotes
T-Bo: Hey, can I help you?
Spencer: Yeah, I need four large smoothies, make two of 'em, strawberry splats and...
T-Bo: You want some bagels?
Spencer: What?
T-Bo: We sell bagels now. (iDate a Bad Boy)
T-Bo: Here's your smoothie.
Sam: Thanks.
T-Bo: You want a bagel with that?
Sam: Don't start with me. (iDate a Bad Boy)
[T-Bo walks up to Freddie holding a stick of pickles]
T-Bo: Would the gentleman care for a pickle?
Freddie: Uh, no, I don't want a pickle.
T-Bo: Why? You afraid of pickles? Scared to take a walk on the pickle side of town?
Freddie: No. I just think that pickles and smoothies don't really go together.
T-Bo: Oh. Well, pardon me for thinkin' that all foods and beverages could get along. (iTwins)
Appearances
Gallery
| | |
| --- | --- |
| | |
References