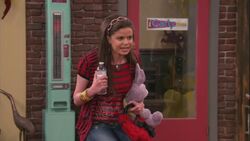 Stacey Dillsen
was a recurring character on
Dan Schneider's
previous series,
Zoey 101
.
This character was extremely prone to bad luck and had an obsession with cotton swabs and white glue, and sometimes even wears cotton swabs in her ears, as earrings. This is because she is a swabber and sculpts objects out of these. She even sculpted her parent's house for Spencer on iNews. Her favorite dip is Salsa, and her favorite writer is Shakespeare, and she spends her summer in Space Camp where her parents sent her. Her favorite food is tied between Spaghetti and Sesame and String Cheese, all this stated on iCarly News with Spencer.It is most likely that the S words are to make fun of her lisp.
Almost no one wanted to be friends with her because of her annoying lisp (which proved to be too much for Spencer in the iNews that featured Stacey). The character had the lisp right up to the
Zoey 101
series finale (she lost it when she got hit by a car). Stacey was played by
Abby Wilde
.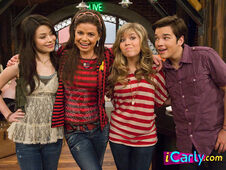 For the episode iStart a Fanwar, Abby Wilde reprised the role as Stacey, who was a Creddie fan. There were many closeups of the character throughout the episode.
In iHire An Idiot, Stacey returned, this time to try to become a new intern at iCarly. However, Carly, annoyed by her lisp and her love of cotton swabs and white glue, kicked her out of contention quickly. Stacey merely commented on her rejection with, "Itsh okay. Thish alwaysh happensh."
Although she wasn't exactly seen, her name can be spotted in the comments section for Nevel's smoothie and creamed corn video in iPity The Nevel, where she uncharacteristically yells, "Stupid video!! Nevel is still the worst person alive!!!"
Stacey returned in an iCarly.com video to showcase her cotton swab sculptures, mentioning that she had recently graduated from Pacific Coast Academy. She annoyed Spencer by answering all of his questions with words that had an "S". She ended the segment by singing her iconic "Shashafrash Tea" song from the Zoey 101 episode "Goodbye Zoey?"
An interesting note is that on Zoey 101 Stacey often reacted to fright by yelling "Nyeeh!" In iSam's Mom, Carly reacts in exactly the same way when she gets claustrophobic.
In iHire an Idiot, she has the same stuffed bunny as Cat did in the Victorious episode, The Diddly Bops.
Community content is available under
CC-BY-SA
unless otherwise noted.