Spencer's Three Friends
are three random guys Sam, Carly, Freddie, and Gibby find at various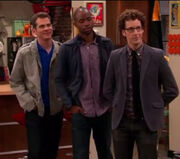 places, such as,
The Groovy Smoothie
,
23 Hour Fitness
, and the Organic Produce section at
Hey Foods Supermarket
in
IFind Spencer Friends
. Only one of their names was revealed, Darnell, who Carly and Sam first saw at the Groovy Smoothie.
The man Carly and Sam saw at Hey Foods was mentioned to have formerly been in prison. He also has a girlfriend named Jennifer and he really likes cilantro, apparent when he gave Spencer a bouquet of it. The third guy Freddie and Gibby found in the locker room at 23 Hour Fitness.
While hanging out with Spencer at
Fiddy's Restaurant
all three guys are said to love the theater. They also talked about finances and politics, must to Spencer's displeasure. They all felt Spencer was childish, and wouldn't share an order of chili fries with him. However, the chili fries were tampered with because they were actually meant for Freddie after he teased a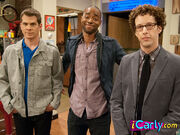 waiter along with Sam.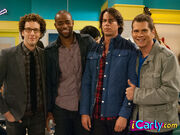 All three ended up sick vomiting in the restroom at the end of the episode.
Community content is available under
CC-BY-SA
unless otherwise noted.