Cobra Kai Season 4 - The Loop
Play Sound
Shelby Marx is an all-American CFC champion who appeared in the second iCarly movie, iFight Shelby Marx.
Personality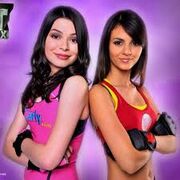 Shelby is a fun girl, but is prone to losing her temper as shown by her anger at Carly for falling on her grandmother or instantly kicking Spencer in the face after he accidentally slapped her.
At the age of 15, she became the youngest female fighter in the world to claim the CFC champion title. She is also called the Pink Bull as her fighting name.
She has one known family member, a grandmother named Edith
By her own admission, raisins creep her out.
Biography
According to Sam and Wendy, Shelby once knocked out a Russian girl's front teeth with one kick to the jaw.
Shelby is first introduced in the CFC championship fight, with everyone but Carly having heard of her and cheering her on. Despite the 11 year age gap, Shelby pins down her opponent Maya Feckler in under a minute, becoming the CFC champ.
Exhibition Match
When Carly jokingly challenges Shelby to a fight, Shelby's manager has the idea to have the girls fight an exhibition match for publicity and charity, assuring Carly that she wouldn't be hurt. However, when Carly falls on Shelby's grandmother during the press conference before the fight, Shelby is angry and threatens to hurt Carly, thinking it was an intentional attack. After Carly explains the accident to her, the girls make up and reschedule the fight, but Nevel manipulates Shelby into attacking Carly for real. After Carly gets through the scheduled round and reveals that Nevel tricked Shelby, Carly, Sam and Shelby beat him up in retaliation.
Afterwards, Shelby becomes good friends with the iCarly team and makes an appearance on their webshow.
Shelby is later mentioned during iParty with Victorious with Sam commenting on how Tori Vega looks eerily like Shelby. Though Freddie agrees, he finds Tori to be "waaaaay hotter."
Appearances
Trivia
References