Obi-Wan Finale - The Loop
Play Sound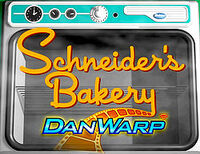 Schneider's Bakery is a company that was a spinoff of Tollin/Robbins Productions. It was founded by Dan Schneider who also serves as the president.
Series produced under the Schneider's Bakery banner are noted for using the same stable of writers on all series, something that is atypical for scripted television series and especially sitcoms that are created by the same writer; staff writers working for most of Schneider's series include Andrew Hill Newman, George Doty IV and Jake Farrow among others. Directors Steve Hoefer and Russ Reinsel also work for the company directing many episodes under the company banner. Musicians Backhouse Mike and C.J. Abraham are largely responsible for the music on the shows. Background music selected by the crew of Schneider's Bakery includes such musicians as The Orion Experience, Jennifer McNutt, and AM, whose popularity exploded when the song "Running Away" was played during the iCarly episode "iKiss," although it was virtually overlooked when played during the Zoey 101 episode "Robot Wars".
The company's production logo features a green and white oven which opens up revealing the company name in a 1950s-style font and in orange with the "Y" extending with a filmstrip on the end followed by Dan Schneider's own voice-over saying "MMM!" The oven is similar to the one on the set of iCarly. The iCarly episode "iMake Sam Girlier" was the first episode to use DanWarp technology, which is merely the "DANWARP" logo included at the end filmstrip. It is used for Schneider's Twitter, Facebook, Blogger, YouTube, and TV.com accounts, giving updates on his productions.
Productions
Show
Years
Episodes
Status
Sam & Cat
2013-2014
40 (as of 2014)
Ended
Victorious
2010-2013
60
Ended[1]
iCarly
2007-2012
109
Ended
Zoey 101
2005-2008
65
Ended
Drake & Josh
2004-2007
57, + 2 TV Movies
Ended
The Amanda Show
1999-2002
40
Ended
Kenan & Kel
1996-1998
27 (only Dan)
62 as a whole, + 1 TV Movie
Ended
All That
1994-2005
183
Ended
Note: All That, Kenan & Kel, and The Amanda Show were not produced under the company name. Schneider's Bakery's first show was Drake & Josh and Season 10 of All That.
Dan Schneider only worked on the first two seasons of Kenan & Kel.
Links
References