Wiki Targeted (Entertainment)
Play Sound
Sam's Mom's Best Arrests is a blog written on iCarly.com about the times Pam Puckett was arrested in different states.
Blog



Sam's Mom's Best Arrests
We're taking a moment to highlight Sam's mom's most infamous run-ins with the law. Friends, be thankful this isn't your mom! Check out the map of all the cities she was arrested in and then scroll down to see the very best of Pam's arrests.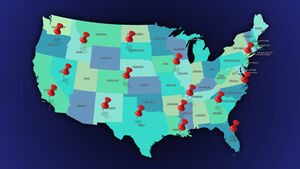 Location: Lubbock, Texas
Citation: Riding a bull after hours. Apparently you can only ride bulls in Lubbock, Texas from the hours of 9AM to 3PM. Pam said she thought the bull was a park bench. The police didn't buy it.
Location: Los Angeles, California
Citation: Attempting to steal the "H" in the Hollywood sign. She was dared to do it by her boyfriend of 3 days. And Pam never turns down a dare... especially from guys she's serious about.
Location: Orlando, Florida
Citation: Walking around Dingo World in her bikini. She said she could have afforded to wear clothes if the price of admission wasn't so high.
Location: New Orleans, Louisiana
Citation: Insulting jazz. It would be one thing if she just told the band they were suckish. Instead, she threw a beignet at the saxophonist.
Location: Somewhere in Idaho
Citation: Illegal french fry manufacturing. She was serving french fries with illegal amounts of trans fats in them. She said they were "dangerously good." The police agreed.
Credit: © 2012 Viacom International Inc. All Rights Reserved
Related Pages
External Links