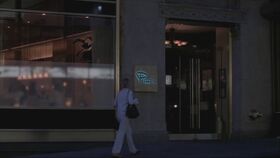 Pini's
is an Italian restaurant
Gibby
mentions in one of his blogs, where he wears a cape in the men's restroom and has got
T-Bo
helping him and doing the same thing. Pini's is the place
Sam
and
Freddie
go on a date in
iDate Sam & Freddie
, which they bring
Carly
along to separate them in the event of a fight. Freddie brings Sam there on their date because they both love Italian food. Pini's is shown to have amazing lasagna.
Pini's is also mentioned in iLove You; Jenna said that Spencer and her went there for dinner and had lasagna.
The Pini's mens bathroom was used for a fake game show that Sam created and hosts called You're In Luck. Spencer, T-Bo, Gibby, Nevel and Freddie have appeared as the Contestants.
In the episode, iBalls, Marty overhears Spencer in the Pini's bathroom talking about how he wants a personal assistant. Spencer gives him the job.
Photo Gallery
External Links
Quotes
Carly: [takes Sam's lasagna] I deserve this lasagna.
Community content is available under
CC-BY-SA
unless otherwise noted.