Jurassic World: Dominion Dominates Fandom Wikis - The Loop
Play Sound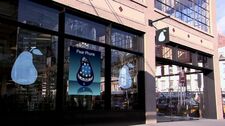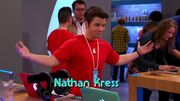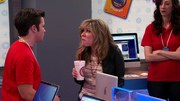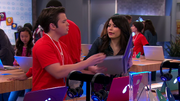 The Pear Store, which was first seen in iPear Store, is a parody of the Apple Store. The Pear Store sells all products from the Pear Company. One is located in Seattle and managed by Natalie. The store's former employees are Sam and Freddie, and its current employees include Trey, Kevin, Woody, and many others.
Products Sold
This is what has been seen being sold at the PearStore so far:
iPear - The all-in-one desktop computer.
PearBook Classic - The laptop with classic features, from an older model, redesigned.
PearBook 4 - The new laptop with a colored back.
PearPod Touch - The PearPod with PearOS, and PearChat.
PearPhone XT - The phone with a Pear shape, and a Personal Assistant.
PearPad 2 - The tablet with a Pear shape.
PearTV - The internet delivering device for your widescreen TV.
PearPort Express - The wi-fi delivering device that can go anywhere.
PearPort Extreme - The wi-fi delivering device for stay at home use.
PearCapsule - The all-in-one wi-fi delivering, computer back upper for any home, office or classroom.
PearCare - The protective warranty for your PearProducts.
PearPhone GX - Mentioned in Victorious, Next Gen. version of the XT.
Employees
The list of people who work at the Seattle Pear Store
Current:
Former:
Freddie- A Former Employee at the Pear Store. He used to walk around helping people chose which Pear Product they want to purchase.
Accessories Sold
These are accessories sold by the PearStore for your PearProducts:
Earbuds
Over-Ear Headphones
PearPhone cases
PearProduct chargers
Brilliance Bar
The Brilliance Bar is a section of the PearStore, where Pear Company experts work to help the coustomer with purchases, problems and questions. It is a parody of the Genius Bar seen in Apple Stores.
The Inside Of A Pear Store