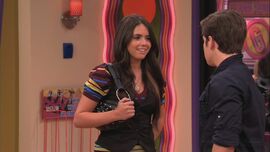 Patrice is a local Seattle girl who appeared in the episodes iSam's Mom and iPity The Nevel.
During her first appearance in iSam's Mom, she told the newcasters Freddie's information and address, despite the fact that he was making it obvious he didn't want the Shadow Hammer to know where he lived.
In her second appearance, she started dating Freddie after his performance as a vampire on an iCarly webcast. Eventually, she found out she was more interested in the "werewolf type," and started dating Gibby after he dressed up like a werewolf.
She is portrayed by Nicole Kalek.
Community content is available under
CC-BY-SA
unless otherwise noted.