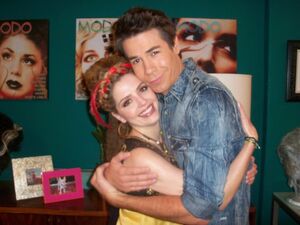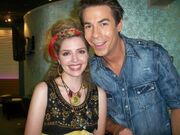 Moni is Spencer's ex-girlfriend. She is a makeup artist/hairstylist who changed the looks of Carly, Sam, Freddie, and Gibby in the episode iParty with Victorious. She dated Spencer six years before iParty with Victorious, but they broke up after Spencer accidentally backed over her with his car, breaking her leg in the process. She has never forgiven him since then.
Moni wasn't the only girlfriend Spencer ran over with his car; he once had a girlfriend named Stephanie who he also accidentally backed over with her his car—it's unknown whether this is the same Stephanie who claims to have a pet unicorn (iSpy a Mean Teacher). When asked about it, he defensively exclaimed, "I'm not the best driver!"
Moni also mentioned (in the extended version of iParty with Victorious) that she did makeup for David Hasselhoff.
She's played by actress Jen Lilley.
Note: Moni's name is spelled with an "e" in the closed captions (Monie).
Community content is available under
CC-BY-SA
unless otherwise noted.