Jurassic World: Dominion Dominates Fandom Wikis - The Loop
Play Sound
Millicent Mitchell is a main character on iCarly (2021) and Freddie Benson's adopted step-daughter. She is portrayed by Jaidyn Triplett.
Biography
Millicent is the biological child of Gwen and adopted step-daughter of Freddie. After her biological father died, her mother Gwen married Freddie, who later adopted her. Due to her mother's travels, Millicent's primary guardian is Freddie. She lives with him and his mother.
Millicent attends Ridgeway Junior High School and is part of the drama club. She is a former Sunshine Girl and briefly ran her own cupcake business named "Millicent's Minions." She is also a small YouTuber with 2 subscribers.
Physical Appearance
Millicent has dark hair.
Personality
Millicent is snarky, ambitious, strong-willed and social media-obsessed.[11]
Millicent is entrepreneurial and tech-savvy. She takes an investing class at a community college and is shown to be well-versed in investment options and retirement plans.[12] She is also mature beyond her years, sometimes making it difficult to connect with friends her age, such as Olive.[3]
Relationships
(Unknown-Present; Adoptive step-father)
Millicent and Freddie have a love-hate relationship, but Millicent eventually warms up to her new stepfather.[13] Millicent is protective of her adopted stepfather to the point where she teaches him to be less gullible while Freddie is teaching her how to be financially literate. In iFauxpologize, Millicent finds an old tweet from Freddie 8 years earlier saying he never wanted kids. This hurts Millicent's feelings, thinking her father regrets her. Freddie tries to make it up to Millicent and that he was young when he said it. Millicent takes advantage of Freddie's kindheartedness for gifts. In iNeed Space, Freddie tries to bond with Millicent over selling cookies and she calls him dad for the first time. (See: Freddie and Millicent)
(Unknown-Present)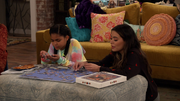 Millicent feels a sense of competition between her and Carly. She sees Carly as washed up as well as competition to her small YouTube channel.[11] According to Miranda Cosgrove, Millicent secretly wants to have her own web show, wants Carly's fandom, and wants to take her down at the same time. She is sometimes sweet to Carly and manipulative at times.[13] In the first 3 episodes, it is shown that Millicent likes to make fun of Carly and tries to out-do her in the internet world. Despite her dislike of Carly, she often hangs out in her and Harper's apartment. They get along for the first time properly in iLove Gwen, when Carly tries to help Millicent get Freddie back together with her mom, Gwen, although this doesn't happen. (See: Carly and Millicent)
(Unknown-Present; Step-grandmother)
Millicent and her adopted grandmother have bonded well and Millicent calls her Grandma B. Mrs. Benson provides bubble baths for Millicent and they both bond over Toledo House Flip. Marissa seems to really love spending time with Millicent and supports her in her activities, like when Marissa went to see Millicent's play.
(Birth-Present, Mother)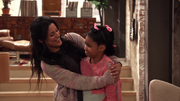 Gwen is Millicent's mother who appears in iLove Gwen. She visits Millicent and Freddie and Millicent tries to get her parents back together. However, it doesn't work as Gwen has moved on and gotten a new boyfriend. Millicent is disappointed, but understands as she is reassured by Freddie that just because he and Gwen are not getting back together, they will always be a family.
Unnamed Father
(Birth-Until his death)
Millicent's biological father is the ex-husband of her mother Gwen. He is mentioned in iLove Gwen when Gwen reveals that he has passed away. After his death, Gwen married Freddie.
According to Gwen, he was a loving father.
(Unknown-Present; Friend)
Olive and Millicent are friends who attend Ridgeway Junior High School together. In iNeed Space, Olive and Millicent are Sunshine Girls, however, they later both quit to make cupcakes for Millicent's Minions. In iTake a Girls' Trip, Millicent mentions that she and Olive protested a frozen yogurt shop because they stopped carrying rainbow sprinkles. In the season 2 episode iObject, Lewbert!, Millicent dumps Olive as her best friend as she feels Olive is too young for her as Millicent likes to act like a grown up. However, after Harper leaves to help Carly in court against Lewbert Sline, Olive arrives and Millicent apologises about dumping her as a friend. The two make up and the pizza's that Harper and Millicent are not paid for as Millicent leaves with Olive and believes kids shouldn't have to pay for the food.
Trivia
Millicent is the youngest character in the series.
In the first episode of the series, Carly says Millicent has 2 subscribers, with one of them being Carly herself.
Despite being legally adopted by Freddie, her surname was revealed to be Mitchell in iNeed Space.
It is revealed in iLove Gwen that Millicent's biological father is deceased.
Writer of episode iCan Fix it Myself, Jordan Mitchell, has same surname.
She attends the same school that Carly and Freddie used to attend.
Millicent is great at serious parties. The theme of Millicent's 10th and 11th birthday party was The Magna Carta.[14]
Millicent is the same age as her portrayer Jaidyn Triplett.
Millicent was going to be 12 at the start of the series, but was changed to 11 to match the age of her actress Jaidyn Triplett.[15]
Millicent speaks Japanese.[10]
She takes part in the Model UN tournament at Ridgeway Junior High School.[5]
Quotes
Appearances
iCarly (2021) Episodes
1
2
3
4
5
6
7
8
9
10
11
12
13
14
15
16
17
18
19
20
21
22
23
24
25
Total
1

✔

✔

✔

✔

✔

✔

✔

✔

✔

✔

✔

✔

✔

13
2

✔

✔

✔

✔

✔

✔

✔

✔

✔

✔

10
Total
23

✔

= Appeared
M = Mentioned
F = Flashback
- = Did not appear
V = Voice
P = Pictured
Note: Specials are counted as 1 episode in the total (see more information).
Gallery
| | |
| --- | --- |
| | See photos of Millicent Mitchell here. |
References