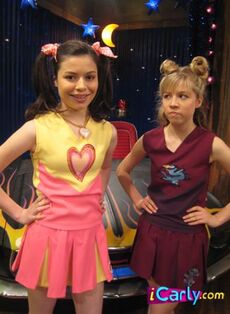 Melanie Higgles: Space Cheerleader was a sketch on iCarly shown exclusively in the first made-for-television movie, IGo to Japan. It was written as part of an effort to qualify for an International iWeb Award, was planned to be performed live on stage, and was deliberately corny, in order to compete with another webshow by Japanese comedians, Kyoko and Yuki. Melanie fights her nemesis (portrayed by Sam), the Dark Space Cheerleader, and fight with red and blue light sticks, parodies of the Star Wars light sabers. Melanie Higgles is one of the Galaxy Wars characters. It was never acted on stage, however, because Sam, Carly, and Freddie were being guarded in a closet. Freddie got a video of Sam and Carly trying to act out their trip to the security guards, that did not speak English. He broadcasted this during Kyoko and Yuki's skit in front of the audience, and got the audience's attention.
Gallery
Community content is available under
CC-BY-SA
unless otherwise noted.