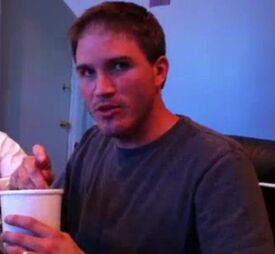 Matt Fleckenstein is a writer who's worked on four of Dan Schneider's shows, including Zoey 101 (helped write 1 episode), Drake & Josh (helped write 4 episodes), iCarly (helped write 8 episodes), and more recently, Victorious (helped write 5 episodes). On occasion, he plays the roles of extras; in iHurt Lewbert, he played the role of an EMT trying to save Lewbert. He was also seen in iQuit iCarly, where he was shown in a video clip in which he bit the heads off of Barbie Dolls.
The character Fleck's name was taken from Matt Fleckenstein's name (iQuit iCarly).
"Fleck" appears in the following YouTube videos: iCarly Writer's Room Rampage, iCarly Writer's Room Tragedy, The iCarly Writing Process, An iCarly Writer Tastes Mountain Dew, and I Reprimand a Writer. All of these can be found on http://www.youtube.com/DanWarp.
He has helped write eight episodes of iCarly:
iWant my Website Back
iHave my Principals
iFind Lewbert's Lost Love
iFix a Popstar
iSell Penny Tees
iPity the Nevel
iLost my Mind
iQ

External links
Community content is available under
CC-BY-SA
unless otherwise noted.