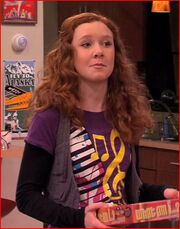 Leslie (born 1994) was first and only seen in the episode iWas a Pageant Girl. She was Freddie's blind date and Alison's cousin (Spencer's date). She told him and Spencer about the game "What Am I?" which Spencer and Freddie eventually got addicted to. It annoyed their dates, and they left some time before 1:00 AM.

Leslie is played by Madisen Beaty.
Background
She is the cousin of Spencer's date, Alison, and seems to be very sweet and bouncy. It is implied she does not live in Seattle when Spencer mentions her coming into town, but she may just live in another part of Seattle.
She was written as 15 years old, and loves the game What am I? She seems to be patient but sometimes annoyed at people ignoring her. At one point she offers to make out with Freddie just to be noticed. She may be open minded, as Alison may not have wanted to go on the date because of Leslie not liking rock climbing, but then agrees to go.
She also seems to like Freddie, as she did not complain at him being her date and she stared at him sweetly. Nevertheless, it doesn't work out.
She likes cream soda.
Community content is available under
CC-BY-SA
unless otherwise noted.