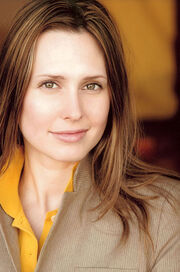 Jessica Makinson
, (born May 17, 1976 in Tempe, Arizona), is an American actress, comedienne, and improviser who is known for a series regular for several
Comedy Central
programs, voice actress for animation, and sketch player for late night talk shows. Makinson guest starred on the
iCarly
episode
iHave a Lovesick Teacher
, playing
Lauren Ackerman
, the attractive, but emotionally disturbed, history teacher who tormented her students, (including
Carly
,
Sam
, and
Freddie
), after her boyfriend broke up with her.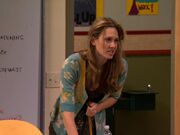 Biography
Jessica Makinson is a graduate of Arizona State University, (with a B.A. in Theater), where she performed sketch and improvisation work, and helped build A.S.U.'s Farce Side Comedy Hour and Barren Mind into on-campus hits. After graduating, she moved to Los Angeles, where she studied at Improv Olympic, going on to perform in groups like Brand X, King Ten, and Squadron.
A "go-to girl" for Comedy Central producers Trey Parker and Matt Stone, Makinson guest-starred on their political sitcom, That's My Bush, and has contributed voices to their long-running animated series, South Park. She has also contributed sketches and characters to ABC's Jimmy Kimmel Live, CBS's Late Late Show with Craig Ferguson, and Showtime's The Underground.
In 2003, she starred in a season of Comedy Central's improv/hidden camera series, Trigger Happy TV, before landing the role of Eleanor on Spike TV's 2004 reality show parody, Joe Schmo 2. The following year, she starred in two pilots - The Hollywood Show for Comedy Central and The Sportsmen's News for the Outdoor Channel.
Makinson was one of the stars of the Comedy Central series, Halfway Home, in the role of Carly Barzak. She was proud to play the first female comedy drug mule on television.
External links
Community content is available under
CC-BY-SA
unless otherwise noted.