Jerranda is the friendship between Miranda Cosgrove and Jerry Trainor. Miranda describes Jerry as being like her real life brother. They have also starred together in Dan Schneider's other TV show, Drake & Josh.
Remember, this page is for friendship only.
Jerranda Moments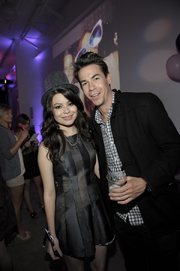 Miranda has stated in several interviews that Jerry gave her driving lessons when she got a new car.
Miranda and Jerry have known each other for a while when they were on Drake & Josh, as Megan and Crazy Steve.
In the video "Which Cast Member Would You Eat," Jerry said: "Miranda should go first 'cause she's the weakest and we can overpower her the quickest."
In the same video, Miranda said: "Jerry, 'cause he's a slow runner, and he's....dumb." This shows that they are so close, they make fun of each other playfully.
Miranda mentions Jerry in interviews, and says that he is really funny on set, always trying to make them break out of character and laugh.
In Danwarp videos Miranda and Jerry are always hanging out together and laughing.
In a run-through video, Jerry wrestled Miranda to the ground in a joking, brother/sisterly way.
On twitter Miranda tweeted to Jerry, @jerrytrainor You're my favorite. Shhhhhh.
Miranda tweeted: @jerrytrainor stole my phone from me today and made this my wallpaper (and tweeted a pic of him) Jerry responded on twitter: @MirandaCosgrove you deserved it! Mwahahahaha! This could be that Jerry was planning a goofy revenge on her.
Photo Gallery
Click here to see the gallery
Community content is available under
CC-BY-SA
unless otherwise noted.