Cobra Kai Season 4 - The Loop
Play Sound
"I'm sorry, but to break the world record, your webshow had to be continuous."
— Marilyn to the iCarly gang.
iWant a World Record is the 10th episode of the first season of iCarly.
Plot
Carly, Sam and Freddie, want to break a world record for the longest web cast, which has to be longer than 24 hours and 8 minutes. To stay awake, which is a condition to get accepted into the Jonas Book of World Records, they include different things like dunking their heads in ice water or programming a random timer for Random Dancing. Despite struggling to stay awake and having to evacuate the studio for a while, they manage to pull through.
Spencer builds an electric sculpture at the same time and flirts with Marilyn, the woman who is in charge of the World Record, even though she tells him she has a boyfriend. When Spencer shows his completed sculpture on iCarly, it takes so much power to work, there is a power failure when he turns it on for about four seconds, eliminating the iCarly team from breaking the world record. However, the sculpture Spencer made won a world record for the most moving parts on a sculpture. Feeling guilty for wrecking iCarly's shot at a world record, he lets Carly, Sam and Freddie add another piece to the sculpture so they are included in the record as well.
The iCarly crew meet the woman's boyfriend, who holds the record of going the longest time without blinking. The world's fattest priest comes to visit Sam, but due to how fat he is, he breaks through the floor before getting to the Shays' apartment.
Guest Stars
Bree Michael Warner as Marilyn Ramer
Greg Mullavey as Granddad Shay
Timothy Hornor as Calvin
Charlie Hartsock as Gas Man 1
Leonard Jackson as Gas Man 2
Rich Chew as Gas Man 3
Trivia
The part where Carly, Sam, Freddie, and Spencer pose for the group picture was shown on the theme song's last scene (for Season 1 only).
The Jonas Book of World Records is a parody of the Guinness Book of World Records.
In the book version of this episode the world's fattest priest is only the world's fattest man.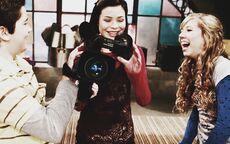 Allusions
To be added
Character Revelations
Granddad Shay is revealed to be an early bird who exercises on an early morning basis.
Goofs
When Carly and Sam were tired, Freddie was tired too. But after Carly and Sam are awake from ice water, Freddie was wide awake without sticking his head in ice water.
When Spencer starts looking for his drill, he dumps the contents of a bin on the floor and the container of sand from Mexico is standing on end, but in the next shot the items are rearranged and the container of sand is lying on its side.
In this episode, Sam and Carly go "Street Fishing" on iCarly. Although, in "iWant My Website Back," Carly is pulled up on a wire from an alley through the same exact window. Also, in "iStakeout", Carly watches a 'Bouncy Jogger Man' from the same window, which, if there was an alley next to the building, Carly couldn't see anything.
The video of the iCarly viewer tickling himself is a put-on, because it is impossible to tickle oneself.
Spencer plugs his sculpture in and the power goes out, then when it is unplugged the power comes back on - in reality a breaker would have been tripped, and it would have to be reset before the power could come back on.
Freddie claims that both Carly and Sam made him drop his light bulb, but if one watches closely, he actually throws it himself. Even if they really made him do it, they mentioned that he pre-set the button himself so it would be Freddie's fault anyways.
When Spencer is hauling the equipment cart down the stairs, watch the laptop on the cart as he's complaining. It is almost completely closed in one shot, and in the next one it's open at a much wider angle. This mistake happens several more times throughout the scene, especially at the end when they head back upstairs.
When the maintenance guys show up to find the "gas leak", they enter through the door, not the elevator. In order to do that, they would have to go up the stairs in the apartment. However, a few minutes later, Spencer shows up asking what's happening. If they went up the stairs, they would have had to pass by Spencer in the living room and told him what was going on.
In the previous episode, iWill Date Freddie, Valerie says she wants to do a webcast every Tuesday afternoon, and Freddie says that is the day they do iCarly. In this episode, they want to break the record for longest webcast for over 24 hours. If they do iCarly on a Tuesday and they were at school the day before when they brought in the book of world records, what ever happened to school? They would have to miss the whole school day on Wednesday. However, it is possible that they did a special Friday or Saturday night webcast so they could break the world record.
Running Gags
Sam mentioning the world's fattest priest.
Series Continuity
The world's fattest priest is mentioned in a later episode, when Sam says the limo they get into would be perfect for him.
This is the first time Sam uses duct tape. The second is in iSpeed Date where she duct tapes Carly to a chair and the third time is in iSell Penny-Tees where she uses it on a girl's arm.
Quotes
Sam: [about the world record book] This thing is full of top-notch freaks, mutants and psychos!
Carly: All your favorite things!
Sam: I know!
Freddie: [reading] "Most downloaded image." "Fastest computer processor."
Sam: Most boring words ever.
Marilyn: By the way, Sam, Carly mentioned to me that you might enjoy having this...
Sam: [Looks at the picture Marilyn handed her] No way! It's the world's fattest priest!
Freddie: We were down for about four seconds.
Sam: Well ... that's not a problem, right?
Marilyn: I'm sorry, guys. To break the world record, your webcast had to be continuous.
Freddie: Come on!
Sam: No!
Carly: Haven't you ever heard of the "five-second rule"?
Marilyn: That's for eating food off the floor.
Carly: Well, I feel that that rule could apply here nicely!
Spencer: You're making me feel guilty here, like the whole thing was my fault.
[Carly, Sam and Freddie glare at him]
Spencer: Oh, yeah ...
Related iCarly.com Blog Posts
Gallery
| | |
| --- | --- |
| | See photos of iWant a World Record here. |
References