Obi-Wan Finale - The Loop
Play Sound
"We're back. Welcome to the new iCarly!"
— Carly
iStart Over is the 1st episode of Season 1 of iCarly (2021), and the 1st episode overall.
Synopsis
"Carly Shay navigates the next chapter of her life, moving past a failed relationship and reinventing her web show. Meanwhile, Spencer can't accept the fact that Harper doesn't like his latest sculpture."


— Official Paramount+ Synopsis
Plot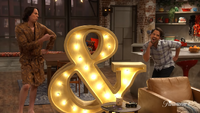 Carly walks into the Shay Apartment for her date with Beau and is mortified to see Spencer cooking in only an apron. She sees the "&" sculpture that Spencer made for her.
Later, while Carly is livestreaming, her boyfriend Beau shows up and breaks up with her.
One month later, Carly is still depressed about the breakup and her roommate, Harper, tries to convince her to go to Spencer's sculpture premiere party, but Carly does not want to bringing up the fact she does not like him. She also brings up that Harper loves parties for people who want to sleep with her. Beau calls her and panics and states she does not make videos anymore. Harper talks to her about her family's situation and decided to look at the result as an opportunity. And encourages her to go the party.
When Freddie arrives at the party early, he is surprised by the amount of guests arrived, but Spencer reveals they are servers dressed as guests and wants to please his friends. Millicent is taking a video of her step-father stating he got divorced twice, pursued his dreams, married for love and back to living with his mom. And he tells her to not post it but ignores him. Carly and Harper walk in planning to exit in five minutes. Millicent later states that Carly has not posted content for over a month (a decade in internet years according to Millicent) resulting to "retirement".
Spencer gives a speech about his world record but lost it. So added more parts to the original. When Carly tries to defend her brother, her alarms rings and someone from her past comes back making Carly to stay.
As they catch up on each other, Freddie is seen with Amy discussing self-awareness with Millicent barging in and Freddie stating she shares custody with her ex-wife. Marissa, Freddie's mother enters embarrassing him with Amy leaving him. Carly later takes Luke up to her apartment explaining Law & Order to him.
The next day, Spencer walks in Carly's happy mood shocked along with Harper. Carly explains why she is in a good mood (Luke). Freddie and Millicent walk in also shocked. Then they are all fed up with Carly with Luke. Later she reveals that she got with Luke to make Beau jealous shocking the rest. Beau walks in, talking with Carly that he is seeing someone and doing a channel together. And Carly brings up Luke and lying to Beau about starting a channel.
Later, Carly goes on a date with Luke at a fancy restaurant. Throughout the date, Luke annoys Carly with his fascination with viscous foods. After, she watches him gargle Bavarian goat whey, she becomes disinterested and ends the date.
Back from the disastrous date, Freddie comforts Carly over burgers. And states she wants to make stuff again needing Sam but gone with her biker gang. She decides to do the show on her own but with help from him and Spencer. They revisit the iCarly Studio and reminisce over old set items.
Later, the show starts with Harper and Millicent. The show starts with Carly applying anti-aging products to Baby Spencer and with a face mask and a lip mask made of laundry detergent. After, everyone is seen celebrating and Spencer letting go his record. And shows his sculpture soon setting itself on fire with Harper reacting weirdly on it.
Subplot
Harper judges Spencer over his actions during the party and he confuses a guest with a waiter during the party. Later, Spencer calls Harper to give feedback about his sculpture. She questions Spencer's decisions and inspires him to do what he wants.
Guest Stars
Trivia
This episode marks the first appearance of Carly, Freddie, Spencer, Mrs. Benson, Harper and Millicent in the revival.

Additionally, this episode marks the first appearance of Freddie and Mrs. Benson since Sam & Cat.

Spencer made a marshmallow White House sculpture that was half-melted because he left it near his phone which broke out in a "spontaneous" fire.

Freddie states the half-melted part was a way to describe America's democracy.

iStart Over is the most-downloaded episode to watch on-the-go on Paramount+.[4]
Talita Maia was cast as Lexi for this episode, however, her scene was cut for unknown reasons.[5]
Allusions
Spencer recalls his record for most moving parts but later lost it.
The & that Spencer created for Carly is identical to the one that appears in the Sam & Cat theme song. The moves that Spencer and Freddie make are reminiscent of those of Sam and Cat in the theme song.
Character Revelations
Prior to this episode, Carly hosted Italian QVC and had a brief stint in college radio.
Harper wants to be a stylist.
Carly enjoys watching Law & Order with frozen French fries.
Sometime after the events of Sam & Cat, Sam joined a biker gang named "The Obliterators."
Spencer sold a marionette that looks like Freddie to Nora Dershlit.
Once when Freddie was inside a sack, Sam superglued the drawstrings closed and left him in the iCarly Studio overnight.
Goofs
When Carly pulls out George the Bra, the bra was red. But in the original series, George was magenta.
Running Gags
Carly explaining her encounter with Luke.
Series Continuity
When Carly states she didn't make videos after Beau dumped her, it's a reference to when the show ended and the web show took a hiatus.
Freddie is back living with his mom.
Baby Spencer returns.
This is the second episode to start with "iStart", following the original's "iStart a Fanwar".
Gibby is the only main character who is not mentioned.
Quotes
Carly: The murders will cheer me up.
Harper: Yes I do! Why am I lying? The man is a ding-dong.
Harper: You should be! Your legs look like Eugene Levy's eyebrows.
Carly: But you're lactose intolerant.
Harper: My body, my choice.
Spencer: ..."Ooh, look at Spencer with his waiters and his remodeled apartment and his Swarovski crystal boxer briefs."
Spencer: You made breakfast, you showered, you're happy, I'm thrilled! What's happening?
Carly then Spencer, Harper and Freddie: I set the timer and when it went off, I opened the door and there he was: [dreamingly] Luke.
Carly: Yeah, I don't need a partner, I need Sam.
Freddie: Doesn't matter what I think. It matters what you want.
Spencer: ...And we'll help however we can.
Carly: I'm really glad to hear you say that because... [pulls a sheet away, revealing Baby Spencer's crib]
Carly: ...I thought it might still be here.
Spencer: Damn it.
Luke: I specialize in the mouthfeel of certain viscous foods.
Carly: Yep, super meaningful.
Carly: I actually panic-bought it when I was at 7-Eleven, and the guy there called me ma'am.
...And in the end, it's just an expensive reminder we're all gonna die someday!
Millicent: People are weirdly loving this.
Spencer: [muffled] I'm totally hating it!
Harper: I-I love it!
Spencer: You do?
Harper: Absolutely. It's about setting your own self on fire and then rebuilding from the ashes like a phoenix. [Harper on Spencer's sculpture]
Related Cast Posts
Reception
International Premieres
Platform
Premiere date
Title
Paramount+ Australia
August 11, 2021[6]
iStart Over
Paramount+ Canada
June 17, 2021[6]
iStart Over
Paramount+ Latin America

Argentina
Bolivia
Brazil
Chile
Colombia
Costa Rica
Dominican Republic
Ecuador
El Salvador
Guatemala
Honduras
Mexico
Nicaragua
Panama
Paraguay
Peru
Uruguay
Venezuela

June 30, 2021[6]
Empezando de cero (Spanish)
Recomeçando (Portuguese)
Paramount+ Nordic

Denmark
Finland
Norway
Sweden

June 30, 2021[6]
iStart Over
Gallery
| | |
| --- | --- |
| | See photos of iStart Over here. |
| | |
| --- | --- |
| | See videos of iStart Over here. |
References