"Do you think it'd be crazy if I ask him out?"
— Carly to Sam regarding Shane.
iSaw Him First is the season premiere of Season 2 of iCarly and the 26th episode overall. This episode also has an extended version which is only available on the iCarly DVD Season 2, Volume 1.
Plot
Carly and Sam both develop a crush on Freddie's "nerd" friend and member of the AV club, Shane. When they cannot decide who should date him, they hold a contest where the first one to kiss him gets to date him. The girls try ways to get him to kiss him but couldn't because they were interrupted.
Meanwhile, Spencer hires a repairman to fix the elevator, but the repairman proves to be no help at all, because he's just a dancer.
Shane accidentally falls from the iCarly studio to the basement, because of the broken elevator, after he finds out that Sam and Carly are competing for him. While in the hospital, Carly kisses him after everyone else leaves the room, then sighs and says "I win!"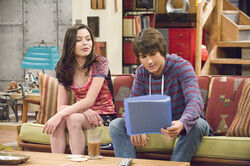 Trivia
Goofs
Extensions
Quotes
Sam: Why does your voice sound deeper?
Freddie: I don't know, puberty?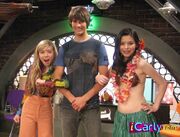 Carly: [about Shane] Do you think it'd be crazy if I ask him out?
Sam: Um... Well, no. It's just--
Carly: You think I'm being too pushy? Too desperate?
Sam: No.
Carly: Well, tell me what you're thinking!
Sam: I was thinking about asking him out.
Carly: Oh. Um...
Sam: Yeah?
Carly: I think the only way to be fair here is to honor the Girl Code.
Sam: So whoever saw him first--
Carly: --gets to date him.
Sam: Agreed.
Carly: Good.
Sam and Carly: So I'm gonna ask him out.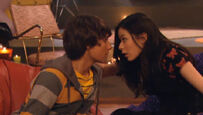 Carly: Did you feel his arm muscles?
Sam: No.
Carly: Oh. Well, they're large.
Sam: You didn't feel his arm muscles!
Carly: [speaking very fast] Yes, I did, too! He told me that he can beat his dad in arm wrestling, and I said, "No way," and he said, "Oh, no, it's true," and I said, "Wow, you must be really strong," and he said, "Well, I work out a little bit," and I said, "Really?" And he said, "Yeah, you wanna feel my biceps?" And I said, "Sure, I do," and so I felt them, and they felt awesome.

Sam : Wouldn't it be easier to just write "I'm desperate" on your forehead?
Carly : You take that back!
Sam : No you take that back!
Carly : Take what back?!
Sam : I don't know, just take it back!

Carly : I'm out of here! (walks out, and then back in) This is my house!
Carly: Well, I don't care because I have a date with Shane tonight.
Sam: Obviously.
Carly: What's that supposed to mean?
Sam: Why don't you ask your new helping bra?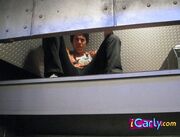 Freddie: [eating a cookie] Mhmm, who made 'em?
Carly: Sam.
Freddie: [spits out the cookie]
Carly: It's okay. She didn't put anything bad in them.
Freddie: Yeah, but when was the last time Sam washed her hands?
[Carly slowly puts her cookie (and Freddie puts the remains of his cookie) back on the plate]
Freddie: [To Carly] Why don't you let Sam date Shane and you date someone else?
Carly: Why?
Freddie: Cause I'm lonely and available.

[Sam sits at a kissing booth. Freddie walks up, puckering his lips slightly.]
Sam: Not for nine billion dollars.
Freddie: Don't worry, I don't wanna kiss you. But I do want you to win the Shane contest.
Sam: You don't want me to win, you just want Carly to lose.
Freddie: THAT IS...true.


Shane: [seeing Carly and Sam fight over him, yells]: GIRLS!!! [Carly and Sam stop fighting] I don't know what's up with you two, but I've had enough of it! I've seen girls get competitive over a guy before, but you two are out of control!
Sam: [seeing Shane going to the broken elevator]: But Shane!
Shane: You girls call me when you two learn to be a little more...
Carly: NO!!!
Shane: [falls, screams]: ...MATUUUUUUUURRRRREEEE!!!!!!!!
[Spencer in the next shot hears him land followed by a high-pitched squeal]
Related iCarly.com blog posts
Carly's blog: Who did SHANE really like best?
Photo Gallery
See photos for this episode here.
Community content is available under
CC-BY-SA
unless otherwise noted.