Jurassic World: Dominion Dominates Fandom Wikis - The Loop
Play Sound
iRobot Wedding[2] is the 5th episode of Season 1 of iCarly (2021), and the 5th episode overall.
Synopsis
"Carly's nemesis Nevel invites the group to his wedding, but Carly suspects that the bride isn't what she claims to be. Harper and Spencer wager on who can collect the most phone numbers at the wedding."


— Official Paramount+ Synopsis
Plot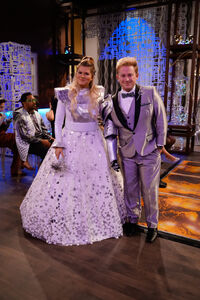 Carly and the gang are invited to the wedding of their former nemesis Nevel Papperman, much to their dismay. Freddie is the best man and he and Spencer tell Millicent and Harper about their previous encounters with Nevel - when he first met Carly, tried to kiss her and when he stuffed Freddie in a robot costume at their party. At the rehearsal dinner, the gang meet Nevel's fiancée Prunella Pitz who is a big fan of Carly, but Carly starts to get creeped out by Prunella, which leads her to think Prunella is a robot.
Meanwhile, Millicent tries not to leave Freddie's side as she is worried that her adopted stepfather will meet someone and instantly want to marry them. Carly meets Prunella, but her odd behavior leads Carly to believe that she is a robot. Prunella has a tendency to tilt her head and blink creepily. She also has an excellent memory and Nevel jokes that she has a computer for a brain. No one seems to know her and she has no family. Nevel also states that he wouldn't be able to inherit his trust fund unless he married a human woman.
During the rehearsal dinner, one of Prunella's bridesmaids drops out and Carly is left to step in, much to her dismay. Carly asks Freddie for help to expose Prunella and he agrees so that he can make sure Carly doesn't go to the extremes. On the wedding day, when one of the bridesmaids flirts with him, Millicent intervenes and scares her off by saying that he has gambling debts and raging night terrors.
At the bridal suite, Carly throws a magnet at Prunella's head and everyone is shocked when it sticks to her head. Prunella explains that she has a steel plate inserted into her head following her family's skiing accident. Carly goes on to apologize to Prunella but a battery pack falls out of her dress, seemingly confirming Carly's suspicions of Prunella being a robot, but Prunella begs her to not tell anyone.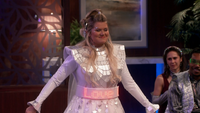 At the wedding, Carly tells everyone that Prunella is a robot and Nevel reveals that he and Prunella weren't actually getting married. It was merely a ruse to get Carly to marry Nevel. Carly cancels the wedding, but at this moment, Prunella professes her love for Nevel. She tells him that she fell in love with him while planning this fake wedding. Nevel is shocked to hear that someone could be in love with him. Their feelings are mutual, and they decide to get married.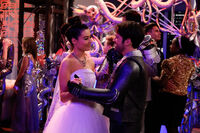 Later, Freddie asks Millicent why she keeps him from talking to other women. Millicent says its because she hates seeing Freddie sad after his divorces. Freddie sees a sad, lonely Carly and asks her to dance. The two share a dance together.
Subplot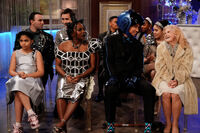 Spencer and Harper try to compete with each other during Nevel's wedding weekend to see who can get the most numbers from the guests. The two come to a tie and decide to dance with each other to get more attention from the guests.
Towards the end of the wedding, Spencer and Harper both get 7 phone numbers each. Just as they are about to accept their tie, Rabbi Lowenstein gives Harper her number, enabling Harper to instantly win the bet. Harper makes fun of Spencer as he now has to attend a compost festival, where they have a worm symposium, a methane workshop, a raffle for a bucket, a 4-hour lecture on manure and a smell test. Spencer pretends not to hear her through his helmet.
Guest Stars
Trivia
During the live tweeting session, writer Kate Stayman-London tweeted a number of behind the scenes trivia points.
Kate Stayman-London, the writer for this episode, is a novelist, screenwriter, and political strategist. She was the lead digital writer for Hillary Clinton's 2016 presidential campaign and has written for notable figures such as President Obama and Malala Yousafzai.[18]
Kate Stayman-London original scripted Harper's line as "ugh, straight people", but Laci Mosley ad-libbed it as "ugh, the straights."[19]
Allusions
The costume Spencer wears during the wedding is based on former electronic duo Daft Punk's Guy-Manuel de Homem-Christo's outfit he wore when he was apart of the duo.
Nevel's robot arm seems to bear a striking resemblance to the arm of Edward Elric in manga/anime series Fullmetal Alchemist. The shoulder guard, layered upper arm, and the indented lines on the forearm are all nearly identical. Whether this is purposeful or not is unknown.
Character Revelations
Carly is 5'5.75" tall.
Freddie's second marriage lasted 14 months.
Freddie is afraid of moths.
Prunella has a steel plate in her head due to a tragedy with her parents.
Spencer did immersion therapy to overcome his fear of clowns, so they only make him cry sometimes.
Goofs
Running Gags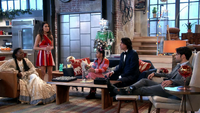 Lightning striking when someone says Nevel Papperman's name.
Carly trying to find clues proving Prunella is a robot.
Series Continuity
Nevel last appeared in iHalfoween, aside from his appearance in the Sam & Cat episode #SuperPsycho.
This is the first appearance of Nevel Papperman in the revival.
Creddie share another dance, like they did in iSpeed Date.
This is the second wedding episode after iDo, in the original series.
The events of iNevel and iHalfoween are referenced.
Some of the wedding food was halal and gluten free.
This is the second time a rabbi has appeared in an episode. The first rabbi to appear in the show was Rabbi Goldman in iSaved Your Life.
Quotes
Harper: Ugh. The straights. Engagement, bridal shower, bachelor, bachelorette, rehearsal dinner, wedding, post-wedding brunch, if you haven't had seven parties celebrating your conformity to social norms, did you even get married?
Spencer: I'm with you on the showers, but rehearsal dinners hold a solemn purpose to pick out who you want to hook up with at the wedding. I regret I have but one Spencer to share with so many lonely women.
Harper: Uh-uh. Not having it because at this wedding, you'll be sharing the lonely women with me, and I'm the undisputed queen of wedding hook-ups.
Spencer: Undisputed? I dispute it.
Harper: Is that a challenge?
Spencer: Let's see who gets the most phone numbers by the end of the weekend, then we'll know who's the true hook-up king... Gender-neutral monarch.
Harper: Winner plans a date that the loser has to go on.
Spencer: Bet... Wait, this is unfair. You have twice as many targets because you go both ways.
Harper: Always, and... ha ha... I know that you didn't just try to insinuate that you're at a disadvantage because you're straight.
[Harper and Spencer awkwardly laugh and shake hands]
Spencer: No.
Harper: I didn't. I thought so.
Spencer: That would be crazy.
Millicent: Freddie, you're with me. I've got to keep an eye on you and your tender heart.
[Prunella checks her phone]
Prunella: Oh, no. Annie's flight got canceled. I'm down a bridesmaid. I'm about to short-circuit.
[Everyone gasps]
Nevel: Oh, dear. Where will we find someone Annie's exact dress size who's brunette with high cheekbones and stands a hair under 5'6"?
[Carly bends her knees to appear shorter]
Carly: If only I were tall enough.
[Prunella walks towards Carly]
Prunella: Oh, but you are. You're a classic 5'5 3/4. Carly, I know it's so much to ask, but would you do me the honor of standing beside me for the most important moment of my life?
Carly: Sure. I'm already having such a wonderful time, and being your bridesmaid will only make it better.
Nevel: To my bride, Prunella, and more importantly, to Carly.
[Nevel raises his glass and everyone else follows]
Everyone: To Carly.
Freddie: You really think that Prunella is a robot?
Carly: I know it sounds crazy, but look at the evidence. No one at Prunella's own wedding has ever met her. Nevel literally said she has a computer for a brain, and he needs to marry a human woman to get his inheritance, but no human woman would marry Nevel. So he threw a robot wedding and built a robot bride.
Freddie: Sounds like a pretty elaborate scheme.
Carly: Which is exactly what Nevel's known for. It's peak Papperman.
Spencer: Greetings. The name's Bot.
[Lift helmet visor]
Spencer: Spencer Bot.
Harper: Give me your phone, what are their names?
Spencer: Right there. Hot wedding guest one, hot wedding guest two, hot wedding guest three-
Harper: That's my number! You reprogrammed me.
Spencer: You're hot. You're a wedding guest, and at one point, you gave me your number.
Carly: Hey Prunella, as your newest bridesmaid, I just wanted to say, 01101100.
Prunella: Aw, you agree too.
Kimmi: I'm sorry do I know you, or you?
Spencer: No. But if you call me sometime-
Harper: -No. Call me girl, I'm the muffin.
Spencer: What is her problem?
Harper: I don't know, probably gluten intolerant.
Carly: Nevel!
Nevel: Carly.
Carly: Don't "Carly" me. I figured out what's going on here and it's insane.
Nevel: Is it really so insane to think an epic love story spanning decades could finally land on happily ever after?
Carly: Oh, please. I know your "epic love story" with Prunella is a lie.
Nevel: You're right, but my love story with you is the truth.
Carly: Heh?
Nevel: Come on, Carly. No more cat-and-mouse. It's time to let me catch you!
Carly: Not now, and not ever!
Nevel: Yes, run to the altar, my beloved. I'll see you there.
[Freddie sees Harper and Spencer dancing]
Freddie: Aw, did you guys settle your silly contest and make up?
Harper: No. People always just want you more when you're taken.
[Spencer nods in agreement]
Freddie: Why don't you want me to fall in love?
Millicent: It makes me sad to see you sad, so I'm just trying to protect you.
Related Cast Posts
Reception
International Premieres
Platform
Premiere date
Title
Paramount+ Australia
TBA
iRobot Wedding
Paramount+ Canada
TBA
iRobot Wedding
Paramount+ Latin America

Argentina
Bolivia
Brazil
Chile
Colombia
Costa Rica
Dominican Republic
Ecuador
El Salvador
Guatemala
Honduras
Mexico
Nicaragua
Panama
Paraguay
Peru
Uruguay
Venezuela

TBA
Yo, robot de boda (Spanish)
O Casamento Robô (Portuguese)
Paramount+ Nordic

Denmark
Finland
Norway
Sweden

TBA
iRobot Wedding
Gallery
| | |
| --- | --- |
| | See photos of iRobot Wedding here. |
| | |
| --- | --- |
| | See videos of iRobot Wedding here. |
References