We're Getting Mutants in the MCU - The Loop
Play Sound
"Okay, yeah, when the tree house was falling, I reached for Dutch... but you reached for Beau."
— Harper to Carly
iReturn to Webicon is the 13th and final episode of Season 1 of iCarly (2021), and the 13th episode overall. It premiered on August 26, 2021.
Synopsis
"Carly and the gang return to Webicon, where they run into a familiar face."


— Official Paramount+ Synopsis
Plot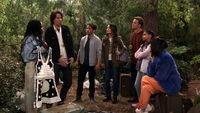 Everyone is getting ready to travel to the new version of Webicon, where Carly will be receiving the Webicon Web Icon Lifetime Achievement Award. Instead of being a large convention as usual, Webicon has become a glamping retreat on an island with limited cell service and tree houses.
Wes tags along and Dutch is slated to perform at Webicon. Freddie is excited at the opportunity to pitch his animal-pairing app "Kevin" to investors at Webicon. Everyone is excited for the best weekend ever, only to discover that Webicon is merely a sign in a forest, as the organizers didn't have enough money.
Wes shares his survivalist knowledge and acts very cautious, which clashes with Carly's desire to just have fun. He begins to get on Harper and Carly's nerves, leading Carly to reminisce about her fun and spontaneous ex-boyfriend Beau.
Suddenly, Beau comes out from a tree house. He reveals that he was supposed to present Carly her award at the ceremony. He shows Carly the inside of the treehouse, which is rather cozy and has nice furniture. He offers to let everyone stay at the tree house. Carly initially refuses to accept the offer, but Harper begs her to.
Freddie feels discouraged by his lack of success and contemplates giving up on entrepreneurship. Millicent and Spencer make a plan to boost Freddie's confidence by convincing Beau to listen to his pitch about his app, and have Freddie believe that he got Beau's interest on his own.
Spencer and Millicent lie to Beau about Freddie already having many investors to get Beau interested in the app. When Freddie shows up, Beau asks Freddie to give him the full pitch. Freddie genuinely believes that he manifested this opportunity himself, and this helps him regain confidence.
Wes gets uncomfortable with how close Beau and Carly are. Just as Wes is about to leave, a storm hits the island and everyone take shelter in the treehouse. Wes and Carly argue and suddenly, the treehouse begins shaking and the ceiling collapses. Amid the chaos, Carly jumps into Beau's arms, thinking that he was Wes, making matters worse. Surprisingly, while everyone is falling over and scrambling to take cover, Spencer sits in the middle of the treehouse with headphones on, completely oblivious to what is going on around him.
The next day, Carly and Harper talk about Beau and Wes. Harper talks about forcing herself to suppress her feelings for Dutch to avoid risking losing her job.
Freddie makes a rather boring pitch to Beau, so Spencer steps in to help out. Beau thinks the app "Kevin" is a great idea, however, he won't be investing as his father doesn't like dogs. Beau reassures Freddie that he will be fine as he has many investors lined up, revealing to Freddie that Spencer and Millicent had set up the whole situation. Freddie is angry, but softens when Millicent offers to invest in the app with her pocket money. This cheers Freddie up and encourages him to continue with entrepreneurship.
Harper and Dutch agree to keep their relationship professional, but within a matter of seconds, they kiss.
Wes builds a makeshift podium and award for Carly. However, Beau shows up with Carly's real trophy. Wes and Beau bicker and both profess their love for Carly at the same time. Before Carly can respond, a helicopter flies overhead to rescue them.
At the end of the episode, in a Fyre Festival fashion, the characters give testimonials about their experience, and ends on a cliffhanger.
Guest Stars
Trivia
This is the season 1 finale.
This episode hints/implies that Carly and Freddie have feelings for each other again. When both Wes and Beau tell Carly they love her, it shows Freddie's reaction as if he is about to say something too and Carly says "And...", when looking at Freddie as if she wants to say/confess something, until the helicopter comes to the rescue. Freddie also has a sad look on his face as if he doesn't want Carly to love any of them accept for him.
Dutch and Harper's kiss makes history as the first same-sex kiss in the history of the iCarly franchise.
The finale 'cliffhanger' is whether or not Carly chose Beau or Wes or neither of them.
In iGuess Everyone Just Hates Me Now, Wes reveals that Webicon was held on his nona's half-birthday.
During the live tweeting session, Laci Mosley, Miranda Cosgrove and co-runner Ali Schouten tweeted a number of behind the scenes trivia points.

Laci Mosley and Poppy Liu used mouthwash between every take of the kissing scene. They also did some random dancing between takes, which can be viewed here.[2]
Laci wanted to do the stunt in the moving tree house, however, the actors were not allowed to and had stunt doubles instead.[3]

During the opening scene where the group is packing to go to Webicon, Miranda Cosgrove kept messing up the "everybody hands in" moment. She doesn't think she's ever been in charge of a group huddle before and finds it hard to get the timing right.[4]
This episode switched the opening titles back to the full version of the theme song and Miranda asked if they could add in the old shot from the original title sequence where Carly throws her blue cowboy hat in the air.[5]
Miranda ate a few of the marshmallows off of Dutch's performance dress.[6]
Laci and Miranda had a lot of fun picking up the smallest twigs and really playing up having no idea how to camp or survive in the wilderness during the scene with the compass.[7]
Miranda loved the luxury treehouse that Beau gets to stay in at Webicon, and wishes that she could stay in one in real life.[8]
Every time Laci said the line "helluva Bidet", Miranda couldn't not laugh.[9]
The writers wrote in that Beau offers Carly "coke with lime" because Miranda loves drinking coke in real life.[10]
Miranda thinks it's cute watching Spencer and Millicent work together in secret to try to help Freddie sell his app.[11]
"George the Bra that tells Ghost Stories" was one of Miranda's favorite old skits from the original iCarly so she was excited the writers had Beau mention it during the campfire scene.[12]
The actors got to make s'mores and eat them in between takes around the campfire. Miranda has never been camping and it was her first time making s'mores.[13]
For the treehouse scene where it falls out of the tree during the storm the crew built a set that was like a ride at an amusement park. A remote controlled the entire set and it flew from side to side on a spring.[14]
Laci and Miranda had fun dressing up and wearing flower crowns when they sit on a suitcase and talk about our complicated love lives. They decided to do valley girl voices at the end of the scene for "They're so cute. They're best friends" and "So cute."[15]
Co-runner Ali Schouten has been dying to use "Yes, I Still Use Checks dot com" since writing the pilot with Jay Kogen, partially because she still does use checks.[16]
Ali knew from the start of the season that she wanted to do a Fyre Fest episode. All the writers contributed a ton, but writer Nasser Samara emailed Ali on a Saturday in early April with a whole pitch for it. The very last scene of this episode comes from that pitch.[17]
Production designer Jim Jones built the set of a forest for this episode.[18]
The writer's room was obsessed with pellet ice, which is controversial, as Ali is a giant fan of cube ice.[19]
The character that Ali dresses the most like is Millicent.[20]
The treehouse stunt took 3 hours to shoot and Ali loved every minute of it.[21]
Allusions
Harper's line "Hell at least has Lil Nas X!" is a reference to Lil Nas X's hit music video, Montero, where he takes a stripper pole down to Hell.
The format of Webicon may be a reference to celebrity retreats such as Mars Island for 30 Seconds to Mars fans.
Carly's line "The heart wants what it wants. Until it doesn't, and then it does again", references Selena Gomez's song "The Heart Wants What It Wants".
Goofs
Character Revelations
Running Gags
Freddie keeps tanking on his pitch and Spencer and Millicent have to help him.
Wes and Beau fight over Carly.
Series Continuity
This is the first mention of Webicon in the revival.
This is Beau's second appearance, the first being in the episode iStart Over.
This is Dutch and Wes' third appearance.
Beau mentions the events of iStart Over.
Quotes
Related Cast Posts
On August 25, 2021, Miranda tweeted "Can't believe the #iCarlyFinale of the season is tomorrow! Join me, @DivaLaci & our show runner Ali Schouten as we live tweet the season finale of #iCarly. Press play on @ParamountPlus Thursday at 4pm PST/7pm EST to follow along!"
On August 26, 2021, Miranda tweeted "Here we go! Gonna live tweet the #iCarlyFinale! Can't believe the first season is already complete and I'm excited for you guys to see what we have in store for the next 🖤"
On August 26, 2021, Nathan tweeted "Alright who watched the Season 1 FINALE of @iCarly tonight?? Tell me your favorite part!! I have one but it's a secret 😏 Also, unrelated... my dude Freddie cannot catch a break...."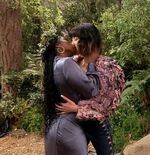 On August 26, 2021, Laci tweeted "This is such a proud moment for me and @poppyrepublic as bi women seeing how happy this made the lgbtq+ fans, especially the young ones, was MAGICAL! Representation matters!! #icarly #iCarlyFinale"
On August 31, 2021, Josh posted on Instagram "If you haven't caught the season finale of @icarly — go check it out now on @paramountplus !! This show is so special, and was undoubtedly some of the most fun I've ever had on set. Commence random photo dump. #icarly #icarlyreboot #paramount #paramountplus #comedy #funny #nostalgia"
Reception
International Premieres
Platform
Premiere date
Title
Paramount+ Australia
TBA
iReturn to Webicon
Paramount+ Canada
TBA
iReturn to Webicon
Paramount+ Latin America

Argentina
Bolivia
Brazil
Chile
Colombia
Costa Rica
Dominican Republic
Ecuador
El Salvador
Guatemala
Honduras
Mexico
Nicaragua
Panama
Paraguay
Peru
Uruguay
Venezuela

TBA
Regreso a la Webicon (Spanish)
Voltei à Webicon (Portuguese)
Paramount+ Nordic

Denmark
Finland
Norway
Sweden

TBA
iReturn to Webicon
Gallery
| | |
| --- | --- |
| | See photos of iReturn to Webicon here. |
References