iParty with Victorious[1] could be the 10th-12th episode of Season Four, and 80th-82nd overall. It is the season's second double episode/TV Movie/Special. It will include various guest stars from Victorious including Victoria Justice as Tori, Leon Thomas as Andre, Matt Bennett as Robbie, Elizabeth Gillies as Jade, Ariana Grande as Cat, Avan Jogia as Beck, Daniella Monet as Trina and Kenan Thompson as Himself. The episode was first known as iCarly-Victorious Crossover in the working title. Dan also tweeted that Gibby will join Spencer, Sinjin, and Sikowitz in the hottub.
Info
Dan Schneider confirmed this episode on his Twitter and Facebook page on August 21: "Sorry I've been quiet for a few days. I'm CRAZED writing a major iCarly episode AND the iCarly/Victorious crossover. HUGE TASKS. But fun!" [2]
According to a DanWarp tweet, Jennette McCurdy is going to sing on this episode. [3]
In a ClevverTV interview, Jennette McCurdy mentions, that she is, "going to throw some rap in the pop".[4]
In a ClevverTV interview, Avan Jogia(Beck, Victorious) says there will be guest stars, and during the crossover he will be spending a lot of time in a hot tub with Eric Lange( Sikowitz, Victorious), Jerry Trainor(Spencer, iCarly), and Elizabeth Gillies(Jade, Victorious) [5]
In an interview with Zang Radio, Ariana Grande says Cat doesn't talk for the whole time, but she does do something. When asked what it was, she replied, "You'll see." [1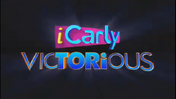 There is said to be a love feud in the exact same interview.
Plot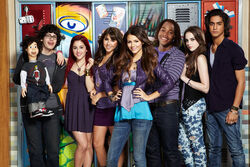 Carly is dating a boy named Steven who divides his time between his divorced parents who live in Seattle and Los Angeles. Meanwhile, Tori is also spending time with her new boyfriend who, unbeknownst to her, is the very same boy Carly is seeing.
Elsewhere at Hollywood Arts, Andre is psyched because Kenan Thompson has offered to let him throw a small party in his awesome new house, but the party spirals out of control when Rex sends a mass tweet.
Carly suspects that Steven is cheating on her after seeing a photo of him and Tori together and plans a trip to Los Angeles to catch him in the act. After convincing Tori that Steven is cheating on both of them, Carly and Tori come together to plot their revenge at the party. Amidst all the scheming, Rex challenges the partygoers to a lyrical rap battle.
Trivia
This is the sixth time that two Nickelodeon shows do a crossover, the first time being the Rugrats/Aaahhh Real Monsters! crossover, then Rugrats Go Wild! (Rugrats/Wild Thornberries) and the next three being the three Jimmy/Timmy Power Hours.
Jennette and Miranda both tweeted this is the last episode of Season Four taped. The last day on the set was September 17.[6] [7]
Even though it's a crossover, Dan only counts it as an iCarly episode (because it is iParty With Victorious, stating that Victorious cast members are only guest starring). Although some fans also count it as a Victorious episode, too.

It is probable that Freddie's mom on iCarly may be guest starring in the crossover special, as Mary Scheer was on set in one of Dan Schneider's YouTube videos.
Kenan Thompson makes a special appearance in the crossover.
It has been confirmed in this video that the iCarly characters will not confuse Tori (Victoria Justice) with Shelby Marx (also Victoria Justice) during the crossover episode.
This is Dan Schneider's first time combining the entire casts of two series in a single episode since he started writing scripts for television.
A promo released on iCarly.com for iGet Pranky featured a blooper from this episode. Jennette McCurdy, Miranda Cosgrove and Nathan Kress were filming a scene in which the iCarly gang finds TheSlap.co

m which is from Hollywood Arts in L.A. However, after the opening line, Jerry Trainor jumped out at them from behind a counter, causing the crew to laugh histerically and nearly giving Jennette McCurdy a heart attack.
Originally, the love interest for Carly and Tori, Steven was originally called Kyle and going to be played by Daniel Booko, who played Cort in iHire An Idiot. But Schneider changed it during production and kept the character's actor a secret.
References
Community content is available under
CC-BY-SA
unless otherwise noted.