Jurassic World: Dominion Dominates Fandom Wikis - The Loop
Play Sound
"You know what product I can always rely on? A can of whup-ass!"
— Harper to Griffin
iMLM[1] is the 9th episode of Season 1 of iCarly (2021), and the 9th episode overall.
Synopsis
"A new powder supplement seems to have instant benefits for the group, but Freddie's devotion to the product puts his future at risk after Carly discovers it's a multi-level marketing scam.[2]"


— Official Paramount+ Synopsis
Plot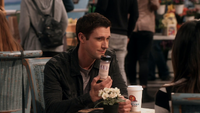 Carly gets a DM from Griffin asking to meet up. They meet up at Skybucks Coffee while Harper watches from the register.
When they meet up, Carly is surprised to see how calm is, considering that he has "live a lot of life." Griffin explains that he has been taking calm sand from the line of supplements, Sand. Carly tries some, and instantly feels calm and relaxed, like a "snowy owl on the quiet tundra, watching the sunrise." She encourages her friends Spencer, Freddie and Harper to try some. Harper is disinterested, but Spencer and Freddie take on her offer. Spencer takes sensitivity sand so that he will be more emotional when watching a sad documentary on a date, and Freddie takes brave sand so that he has more courage during his "serious talk" with Millicent.
Later, Spencer and Freddie feel the positive effects of Sand. Spencer indeed becomes more sensitive and apologizes for doubting her earlier by gifting her a menstrual crystal. Freddie uses his new-found courage to decline Millicent's request for a dog.
As a side hustle to get money to move out of his mom's apartment, Freddie spends his life savings of $4000 on Sand inventory, in hopes of selling them and making money back quickly. He even quits his job, Carly tried to help Freddie by allowing him to promote sand on iCarly, along with Griffin.
Millicent goes to Skybucks Coffee Bar for her Fishy and Me Group. When she feeds her goldfish, she accidentally confuses the bottle of Sand with the bottle of fish food. Millicent is shocked, thinking that she accidentally killed her fish. However, Harper rips off the label on the Sand bottle, revealing that Sand is actually fish food. She connects the dots and realizes that Sand is a multi-level marketing pyramid scheme, which scams people into buying inventory of phony products that can't be sold, forcing people to recruit more salespeople.
Harper rushes over to the iCarly Studio, quitting her job in the process, to warn Carly and Freddie. When she arrives, they are already live streaming, so she holds up a whiteboard to tell them that Sand is fish food. Carly realizes that Griffin reconnected her purely to promote Sand on iCarly, and loses interest in him. Griffin pretends to be shocked and leaves on his scooter after Harper threatens him.
Freddie is shocked, realizing that he spent all his life savings on fish food. However, he realizes that his job as a tech support worker was actually holding him back, and this experience has reminded him that he is an entrepreneur. Harper feels the same about quitting her job and is pleased to be focusing on her career as a stylist.
Subplot
Freddie gets a new job as a tech support line. When he spends time helping customers, Millicent interrupts by showing him a presentation on why she should get a dog. Freddie replies, "No." after taking a shot of water with "Courage Sand". When Freddie gets a call, after fixing their problems he offers the customers some sand and they hung up. Freddie gets Millicent a fish to see how she care of it first before of a dog.
Guest Stars
Trivia
On May 8, 2021, writer Esther Povitsky posted an image of the front cover of the script for episode 108. Despite being scribbled out, the working title "iMLM" that was printed on the front cover is visible.[1]
Despite the production code being 108, this episode aired as the 9th episode.
Writer Korama Danquah confirmed on twitter that the 9th episode is the one written by Esther Povitsky.[4]
Carly shows interest in Griffin again until she realizes he used her to scam people, so loses interest in him again.
During the live tweeting session, writer Nasser Samara tweeted a number of behind the scenes trivia points.
Writer Esther Povitsky later guest stars as Brooke in iTake a Girls' Trip.
Esther Povitsky wrote about multi level marketing because she believes there is no other better topic for an episode of a sitcom.[10]
Allusions
Harper's favorite podcast, Scam Empress, is a reference to Laci Mosley's podcast, Scam Goddess.
Character Revelations
Griffin has been to prison and sold his pee-wee babies, but is selling sand to scam everyone.
Griffin has been bankrupt and in prison.
Goofs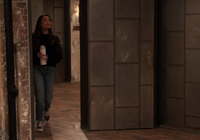 When Carly walks into the iCarly Studio, the sign on the Shay Apartment, 8C, is visible, which doesn't make sense as the iCarly studio is on the 3rd floor of the Shay Apartment.
Running Gags
Carly and Spencer using "sand" to calm themselves.
CJ phrasing his replies to Harper as "As your friend, I say ____, but as your assistant manager, I say ____".
Series Continuity
Quotes
Related Cast Posts
On June 16, 2021, Drew Roy posted on Instagram "Flashback, no. Reboot… oh yeah! iCouldn't have been more excited to get invited back. Who can name the show? Let the robot guide you. New season premiers tomorrow. Details to come later. #paramountplus"
On July 28, 2021, Drew Roy posted on Instagram "Griffin is back. A little flashback… and a peek into tomorrow! #PeeWeeBabies @icarly @paramountplus #GriffinIsBack"
Reception
International Premieres
Platform
Premiere date
Title
Paramount+ Australia
TBA
iMLM
Paramount+ Canada
TBA
iMLM
Paramount+ Latin America

Argentina
Bolivia
Brazil
Chile
Colombia
Costa Rica
Dominican Republic
Ecuador
El Salvador
Guatemala
Honduras
Mexico
Nicaragua
Panama
Paraguay
Peru
Uruguay
Venezuela

TBA
Marketing multinivel (Spanish)
iMLM (Portuguese)
Paramount+ Nordic

Denmark
Finland
Norway
Sweden

TBA
iMLM
Gallery
| | |
| --- | --- |
| | |
| | |
| --- | --- |
| | |
References