Jurassic World: Dominion Dominates Fandom Wikis - The Loop
Play Sound
"We may not live together, but we're still a family...and we're always gonna be."
— Freddie to Millicent about them and Gwen.
iLove Gwen[4] is the 8th episode of Season 1 of iCarly (2021), and the 8th episode overall.
Synopsis
"Carly and Millicent push Freddie and his ex-wife together after a series of misunderstandings lead them to believe the couple wants to reunite. Harper and Spencer get roped into doing tech work on Millicent's school play."


— Official Paramount+ Synopsis
Plot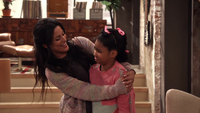 Gwen, Millicent's mother and Freddie's ex-wife, returns home from a trip to see Millicent. Gwen and Carly act hostile to each other in the Shay Apartment, but once they are outside and away from Freddie, they hug, revealing that they are actually close friends, but pretend to hate each other to protect Freddie's feelings.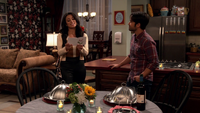 After Millicent overhears a conversation between Freddie and Harper about him missing Gwen's specialty dish, Gwenchiladas, Millicent mistakenly believes that Freddie still has feelings for Gwen. She tells Carly, and together, they make a plan to get them back together. They re-create their first date, where they ate Ethiopian food. However, the two do not have feelings for each other and are comfortable being friends. Gwen even reveals that she has a new boyfriend named Ernie. At one point, Gwen holds Freddie's hand. Carly and Millicent, who are watching from afar, believe that the gesture is romantic and decide to bring them together through a grand soliloquy presented by Millicent in her school production of Romeo and Juliet.
During the play, while sitting in the audience with Freddie and Gwen, Carly discovers the truth. She steps on stage, in place of the child who was supposed to portray Romeo, to tell Millicent not to go ahead with the plan. Millicent is upset when she realizes that her parents are not getting back together.
After the play, Olive, who is the stage manager, informs Carly that the principal of Ridgeway would like to see her, as she ruined the play by going on stage.
Subplot
Millicent tricks Harper and Spencer into preparing costumes and the set for the school play. She knows how competitive they are, and tells them that they have a chance to receive a prize. Harper creates Shakespearean costumes, and Spencer builds a set made with toast. On the day of the play, they hand out flyers with a QR code which links to a survey to see whether the audience prefers the set or the costumes. Throughout the play, slices of toast fall off and Spencer is seen crawling around and re-attaching toast with peanut butter.
Guest Stars
Trivia
On July 20, 2021, Miranda Cosgrove revealed on Instagram that one of Freddie's ex-wives would make an appearance in this episode.[5]
The production code of this episode is 110, but it aired as the 8th episode.[1]
Millicent's school puts on a play of Romeo and Juliet.
iLove Gwen is the first episode of TV that Korama Danquah has ever written.[6]
During the live tweeting session, writer Korama Danquah tweeted a number of behind the scenes trivia points.
Allusions
Character Revelations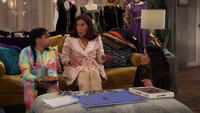 Mrs Benson has never been invited to a sleepover.
Gwen is one of Freddie's ex-wives and the mother of Millicent.
Freddie used to have a soul patch.
Millicent's biological father is deceased.
Carly and Gwen are actually close friends, but pretended to hate each other for Freddie.
Mrs Benson refers to Millicent as her granddaughter when she tells Freddie to be quiet indicating how close they are.
Carly has been to Zanzibar with Gwen. There, she swam with turtles that ate out of her hand.
Goofs
Running Gags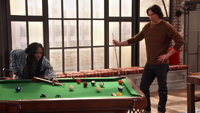 Mrs. Benson wanting a sleepover
Freddie talking about Gwen's Enchiladas
People taking advantage of Spencer and Harper's competitiveness to trick them into doing things.
People making fun of Millicent's large head.
Series Continuity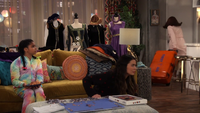 This is the second episode to start with "iLove" in it following the original's "iLove You".
Marissa Benson appears for the second time in the iCarly revival, after iStart Over.
Ridgeway Junior High School appears after being last seen in iGoodbye.
Mrs. Benson seems to have gotten friendlier with Carly over the last 10 years, considering she was not fond of the original gang.
Mrs. Benson's First Aid kit from iFence and iCarly Saves TV, from the original series, appears again.
This is the fifth episode in the revival to not host a webcast.
Quotes
Related Cast Posts
On July 23, 2021, Nathan tweeted "Hear ye, hear ye! Get thee to a teevee! This week we're going back to Ridgeway, kids. And lemme tell ya, we're bringing the draaaaaaaaammmaaaaaaa. Freddie's ex/Millicent's mom is back, and it's getting all Shakespearean up in hurr. Episode 108 is streaming now on @paramountplus!"
Reception
International Premieres
Platform
Premiere date
Title
Paramount+ Australia
TBA
iLove Gwen
Paramount+ Canada
TBA
iLove Gwen
Paramount+ Latin America

Argentina
Bolivia
Brazil
Chile
Colombia
Costa Rica
Dominican Republic
Ecuador
El Salvador
Guatemala
Honduras
Mexico
Nicaragua
Panama
Paraguay
Peru
Uruguay
Venezuela

TBA
Quiero a Gwen (Spanish)
Eu Amo Gwen (Portuguese)
Paramount+ Nordic

Denmark
Finland
Norway
Sweden

TBA
iLove Gwen
Gallery
| | |
| --- | --- |
| | See photos of iLove Gwen here. |
| | |
| --- | --- |
| | See videos of iLove Gwen here. |
References