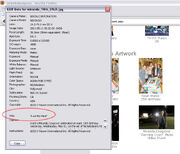 iLost My Mind is the first episode of Season 5.[1]
Plot
Picking up where
iOMG
left off, Sam checks herself into a mental hospital, thinking she's lost her mind. Carly, Freddie, and Gibby visit. Freddie wants to talk about the kiss. Then, Sam and Freddie go out for a date and ask for Carly to go, if they quarrel she separated. Gibby has Mrs. Benson that Sam and Freddie are dating, and she freaked out.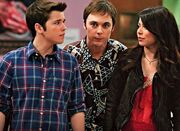 Trivia
The episode was filmed from May 9-12, 2011.[5]
The Big Bang Theory's Jim Parsons guest stars as Caleb, a mental patient who thinks he's from the future. [4]
Video Gallery
References
↑ iLost My Mind promo, YouTube.com (June 10, 2011)
↑ 4.0 4.1 4.2 Jim Parsons Makes a 'Bang' on 'iCarly' - ET Online YouTube.com (June 8, 2011), at 0:01 on sign
↑ Stage 9 Talent / Carol Weiss & Blossom Wagner - Treva Tegtmeier, resumes.breakdownexpress.com
↑ Booking: iCARLY (Nickelodeon) - Stage 9 Talent / Carol Weiss & Blossom Wagner, kabookit.com (May 10, 2011)
Community content is available under
CC-BY-SA
unless otherwise noted.