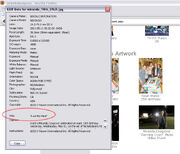 iLost My Mind is the first episode of Season 5.[1]
Plot
Picking up where iOMG left off, Sam checks herself into a mental hospital, thinking she's lost her mind.
Trivia
The episode was filmed from May 9-12, 2011.[5]
The Big Bang Theory's Jim Parsons guest stars as Caleb, a mental patient who thinks he's from the future. [4]
References
↑ iLost My Mind promo, YouTube.com (June 10, 2011)
↑ 4.0 4.1 4.2 Jim Parsons Makes a 'Bang' on 'iCarly' - ET Online YouTube.com (June 8, 2011), at 0:01 on sign
↑ Stage 9 Talent / Carol Weiss & Blossom Wagner - Treva Tegtmeier, resumes.breakdownexpress.com
↑ Booking: iCARLY (Nickelodeon) - Stage 9 Talent / Carol Weiss & Blossom Wagner, kabookit.com (May 10, 2011)
Videos