Jurassic World: Dominion Dominates Fandom Wikis - The Loop
Play Sound
"I'll never let go, Carly. I'll never let go."
— Harper
iGot Your Back is the 4th episode of Season 1 of iCarly (2021), and the 4th episode overall.
Synopsis
"After enlisting Harper's help for a red-carpet event, Carly starts to doubt that Harper understands her best interests and questions their friendship. Meanwhile, Spencer goes to extraordinary lengths to get Freddie his first post-divorce date."


— Official Paramount+ Synopsis
Plot
Carly receives an invite to attend Seattle Fashion Fest. Carly wants to avoid seeing Beau with his new girlfriend at the event, but Spencer and Harper convince her that she should go anyway. Carly agrees to go to the event as long as Harper styles her.
Carly tries on dozens of Harper's outfits, but is not satisfied with any of them. Carly expresses that she is worried about seeing Beau and his new girlfriend at the event, so Harper proposes going to the event with a guy. She sets Carly up on a date with Trenton, but Carly is upset when she finds that Trenton is a dim-witted man who believes in flat earth theory.
Tension builds between Carly and Harper as they disagree on what Carly should wear to the event. Carly is also annoyed about being set up with Trenton. She doubts that Harper understands her best interests and questions their friendship.
Carly talks to Spencer who makes her realize that that Trenton is indeed Carly's type - hot and dumb. Carly realizes that Harper really did have her best interests at heart, and that their disagreement is hurting both of them. She decides to attend the event anyway and wears a dress that Harper had worked on.
When Harper learns that Carly is attending the event, she immediately rushes over and tells Carly that since they never had a fitting, her dress is being held together by temporary stiches. The dress begins to rip, so Harper stays next to Carly holds her dress together as she walks along the red carpet.
At the end of the episode, Carly hires Countess Debra, an actress on The Real Widows of Wisconsin, to make a Contrition Pigeon video to ask Harper for forgiveness.
Subplot
A Postrabbit employee flirts with Freddie, but he is completely oblivious to the fact that she is flirting and slams the door in her face. Spencer convinces Freddie that he needs to begin dating again and tries to hook him up with his nuclear physicist friend, Ramona.
Freddie is excited for his date with Ramona. However, once Spencer shows Ramona a picture of Freddie, she isn't interested in going out with him anymore, and Spencer worries that revealing this will crush Freddie's new-found confidence.
Spencer tries to hire an actress from PostRabbit to pretend to be Ramona, however, he ends up hiring a sex worker on EagerBunny who charges a very high hourly rate. Freddie and Ramona go on many dates, all paid for by Spencer. Luckily for Spencer, Freddie and Ramona's relationship doesn't end up working out, as Freddie is annoyed by Ramona constantly needing to leave on the hour for "nuclear physicist emergencies."
Guest Stars
Trivia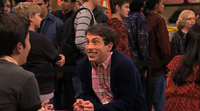 Carly Shay was absent in the cold open.
Laci Mosley revealed on her Instagram that this was the first episode of the season to be recorded. [3]
This episode's writer, Danny Fernandez, previously guest starred as Kevin in the episode, iSpeed Date.[4]
During the live tweeting session, writer Danny Fernandez tweeted a number of behind the scenes trivia points.

Countess Debra's Cameo is a nod to Countess Luann de Lesseps[5]
The garlic kombucha and the dinner menu having no pictures were jokes from Danny's boyfriend Brandon Leffler.[6]
Danny Fernandez first met Veronika Dash, the actress who portrays Framona (Fake Ramona), when she was cast in Danny's episode of Grand Hotel.[7]
The line "Oops I just blazed a trail" was Korama Danquah's idea.[8]
Due to COVID precautions, the crew spent the first 2 days of filming watching from home and texting non-stop with Ali Schouten during and in-between takes.[10]
Writer Nasser Samara came up with the show "The Real Widows of Wisconsin."[11]
Writer Jacques Mouledoux was responsible for the first joke in the episode, which was about hot beers.[12]

The cast rehearsed in full PPE gear (masks and goggles).[13]
Allusions
Blessed Buy is a parody of Best Buy.
Postrabbit is a parody of TaskRabbit.
GameStation X is a parody of both PlayStation and Xbox Series X.
ContritionPigeon is a parody of Cameo, Starsona, and MyFanPark.
EagerBunny seems to be a reference to Backpage, OnlyFans, and Fiverr.
The Real Widows of Wisconsin is a reference to the The Real Housewives franchise.
Despite Millicent calling Carly and Harper boomers, they are actually millennials.

The name calling of boomers was used display Millicent's ignorance towards those in a older generation than her.
Character Revelations
It is revealed that Carly and Harper first met at Skybucks Coffee Bar. They bonded over The Real Widows of Wisconsin during Harper's break.
Millicent is 11 years old.
Harper previously learned Hebrew to throw a bat mitzvah party, despite not being Jewish.
Beau's mother is deceased.
Spencer has a credit card that ends with 6821.
Goofs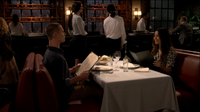 There was no sound coming from the TV when Millicent was watching The Real Widows of Wisconsin.
When Beau is mentioned for the first time in the episode, Paramount Plus has his name spelled correctly in the closed captions. However, for the rest of the episode, it is misspelled as "Bo".
Running Gags
Series Continuity
Carly shows Harper the dress she (Carly) wore to the Air Force father-daughter dance in iGoodbye. Harper updates the dress by adding a long skirt.
This is the first episode of the revival to not feature an iCarly webcast.
Sam is mentioned for the first time since iStart Over.
Titanic is referenced by both Harper and Carly. Carly says "Promise me you'll never let go" and Harper responds with "I'll never let go, Carly. I'll never let go".
This is the third episode to start with iGot following iGot Detention and iGot a Hot Room in the original show.
The term "man-me-downs" will continue to be used for the foreseeable future.[14]
Quotes
Freddie: "I asked Ramona and she said yes."
Spencer: "Tomorrow at 8PM?"
Freddie: "Yeah! Wait, how did you know?"
Spencer: "Just a lucky guess, ha."
[Carly pulls out a dress]
Carly: "Ta-da!"
Harper: "That? It looks like a dress you would wear to an Air-Force One Father-Daughter dance."
Related Cast Posts
Reception
International Premieres
Platform
Premiere date
Title
Paramount+ Australia
TBA
iGot Your Back
Paramount+ Canada
TBA
iGot Your Back
Paramount+ Latin America

Argentina
Bolivia
Brazil
Chile
Colombia
Costa Rica
Dominican Republic
Ecuador
El Salvador
Guatemala
Honduras
Mexico
Nicaragua
Panama
Paraguay
Peru
Uruguay
Venezuela

TBA
Te cubro la espalda (Spanish)
Eu tô Contigo (Portuguese)
Paramount+ Nordic

Denmark
Finland
Norway
Sweden

TBA
iGot Your Back
Gallery
| | |
| --- | --- |
| | See photos of iGot Your Back here. |
| | |
| --- | --- |
| | See videos of iGot Your Back here. |
References