Wiki Targeted (Entertainment)
Play Sound
"What kind of fauxpology was that?!"
— Spencer
iFauxpologize is the 3rd episode of Season 1 of iCarly (2021), and the 3rd episode overall.
Synopsis
"A disgusted reaction from Carly is paired with Spencer's latest artwork to become a popular meme, giving Carly new viral fame but leaving Spencer feeling insulted and out for revenge. Millicent finds Freddie's troubling old social media posts, which gives her a brilliant idea."


— Official Paramount+ Synopsis
Plot
Carly decides to start posting memes about her show on social media. One of the memes is Carly looking disgusted at a meatball, with Spencer's art in the picture too, but is quickly misunderstood and people start to think Carly doesn't like Spencer's artwork. Spencer isn't happy with what people were thinking about his artwork. Then, Carly has the idea to promote Spencer's artwork by livestreaming his art show, for people's perspective on his artwork to change.
Subplot
Millicent gets upset with Freddie over a post he made on an unknown day in 2013 at 3:47 PM that said he never wanted to have kids, Freddie says that he was joking, even though, he made another post saying that he wasn't joking.
Guest Stars
Trivia
The title comes from Spencer's line when Carly "apologizes" to him: "What kind of 'fauxpology' was that?"

It is a portmanteau of the words "faux" (meaning fake) and "apology".

Millicent says people won't be able to spit because of a worldwide pandemic and Freddie tells her it won't happen. This is a reference to the COVID-19 pandemic, which was still underway during this episode's production and when it aired.
Josie Totah had a recurring role in the Disney Channel show Jessie as a child, then performing under the name J. J. Totah, before she came out as a transgender woman in August 2018.
The ASMR stan is played by Alex Wassabi, who is a real-life YouTuber with 11.5 million subscribers (as of June 2021). While he does not make ASMR videos, he mainly makes skits, comedy, and challenge videos.
Allusions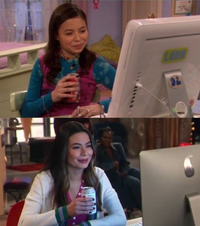 Carly references an iconic meme from Drake & Josh, recreating the scene of Megan Parker, Miranda Cosgrove's character on the show, in the 2006 episode, Mindy Loves Josh where she is holding a soda can and staring at a computer screen saying the word "interesting". The meme first gained online traction in early 2016. Shortly after, the scene is recreated again by Millicent. Jaidyn Triplett is roughly three years younger at the premiere of this episode than Cosgrove was when the original scene aired in 2006.
Freddie mentions JavaScript, a programming language commonly used in webpages. Several other TV shows in the past have also made jokes about the language.
IMemeDb is a parody of IMDb.
Red Lamb is a parody of Red Bull.
QuackFeed is a parody of BuzzFeed.
Character Revelations
Goofs
Running Gags
Carly's Meatball Meme popping up everywhere.
Series Continuity
Quotes
Carly: It's like Harper always says: "You gotta switch it up on a bitch!"
Beat.
Carly: I'll never say that again.
Freddie: So, this place is just, like, skewering stuff on the internet? ... Oooh! Where's the part where they make fun of JavaScript?!
Related Cast Posts
Reception
International Premieres
Gallery
| | |
| --- | --- |
| | See photos of iFauxpologize here. |
References