Wiki Targeted (Entertainment)
Play Sound
| | |
| --- | --- |
| ! | This article is about the 2021 revival. For the 2007 show, see iCarly (TV show). |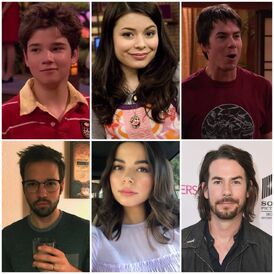 iCarly is an American sitcom created by Ali Schouten and Jay Kogen. The first season premiered on the streaming platform, Paramount+, on June 17, 2021 as a sequel to the Nickelodeon 2007-2012 tween sitcom iCarly.[5][6]
This revival was announced on December 9, 2020 on the official Nickelodeon Twitter[7] and the official iCarly Facebook page[8], confirming the original article announcing the revival.[9] The series is an adult comedy with a run time of approximately 30 minutes.[10]
The new series is produced by Nickelodeon Studios for Paramount+ and feature the return of original stars Miranda Cosgrove, Jerry Trainor, and Nathan Kress in an adult-oriented version.
According to Paramount+'s February 2021 press release, the revival is "a new chapter for the most successful kids' sitcom of all time, where original cast members Miranda Cosgrove, Nathan Kress and Jerry Trainor join new friends for a look at these characters' present-day lives, adventures and comedic mishaps."[11]
Plot
Carly Shay and her friends are navigating work, love and their family.[3] Carly is 26 years old. She attended college and has been pretty successful. She has not hosted her web show in a long time, but decides to restart it in the pilot episode. Freddie has been through two divorces and his startup company has gone bankrupt, leading him to move back in with his mother. Spencer has become very wealthy and is the most successful out of the three returning characters. He continues to reside in the Shay Apartment, which has been remodeled.[12][13]
It is mentioned in the first episode that Sam is off "following her dreams" with a biker gang, hence her absence.
Carly's new best friend/roommate, Harper, is a pansexual character who dreams of becoming a fashion stylist after her wealthy family lost all of their money. They both reside in a new apartment at Bushwell Plaza. Harper will push Carly out of her comfort zone as they confront day to day obstacles. Freddie's adopted step-daughter, Millicent, is social media-obsessed and sees the older Carly as washed up as well as competition to her small YouTube channel.[14]
See more: Season 1 (Revival)
Production
Development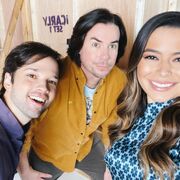 Producers of this revival include Miranda Cosgrove and Jerry Trainor.[15] Filming of the series began during the week of March 22, 2021, and premiered in 2021.[16][17][18] On December 24, 2020, Jay Kogen announced on Twitter, that the pilot of the revival has been written, and the writers room began on January 20, 2021.[19][20] 13 episodes have been ordered so far.[21]
In December 2020, Jay Kogen confirmed that Mary Scheer who portrays Marissa Benson could return in the revival.[22] In April 2021, Tim Russ who portrays Principal Ted Franklin confirmed on Twitter that he would appear in the revival.[23]
Jay Kogen, ex co-runner of the show, stated that Noah Munck had been approached to return to his role as Gibby, but didn't say anything beyond this, while saying "it's her call" when asked about Jennette McCurdy returning.[24] He has also indicated that BooG!e who portrays T-Bo is welcome to return in the revival if he wishes.[25]
The revival is about the iCarly characters being in their 20's and finding their way in the world.[26][27] Since the finale of iCarly, the original characters have experienced new relationships.[28] On December 25, 2020, Jay Kogen tweeted that Carly has had experienced new relationships, Freddie has had been married, and Sam has had a new life.[29]
The revival was originally co-run by Jay Kogen and Ali Schouten.[30] On February 25, 2021, Deadline exclusively reported that Jay Kogen had stepped down as executive producer and co-showrunner but fellow executive producer/co-showrunner Ali Schouten remains on board. The article claimed that Kogen and Miranda Cosgrove "did not click creatively", which led to his departure.[31] Jay Kogen confirmed the news the same day on Twitter saying "I'm sadly no longer trying to make iCarly a show worth watching. But the work I did has given the show a foundation. I wish them the best."[32]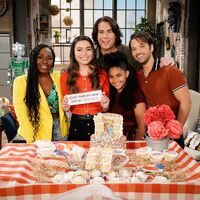 On her podcast, Jennette McCurdy announced that she had quit acting due to resentment over her acting career.[33] As a result, she is not returning to the reboot of the show to reprise her role as Sam Puckett.[34]
On March 18, 2021, Deadline revealed the two additional cast members Laci Mosley and Jaidyn Triplett. Laci Mosley plays Harper, Carly's roommate and best friend. Jaidyn Triplett plays Millicent, Freddie's snarky and social media-savvy stepdaughter.[35]
On May 6, 2021, it was revealed that the revival ould air in June of 2021.[5] On May 14, 2021, Miranda Cosgrove revealed that the revival would premier on June 17, 2021.[6]
On June 1, 2021, the trailer was released. It was also revealed that the first 3 episodes would premiere on June 17 in the U.S. and Canada and the following 10 episodes will air weekly.[36]
Cast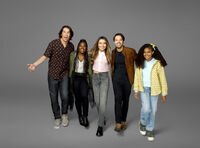 Main Cast
Guest Stars
Trivia
Promotional Media
Videos
Images
References
Community content is available under
CC-BY-SA
unless otherwise noted.