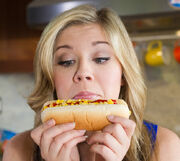 iCarly: iCook With Bird's Eye is an initiative to promote healthier eating habits for kids and to sponsor Bird's Eye frozen vegetable brand. The winner's logo was featured in IBust a Thief.
About Bird's Eye Initiative
The brand is starting a recipe contest, "iCarly iCook with Birds Eye," for children to develop offbeat vegetable recipes. In an online-only video that will be introduced on the Nickelodeon Web site on Monday, Jennette McCurdy, who stars on the show, encourages viewers to "create your own wacky veggie dish" for the contest.
Also beginning Monday, commercials on Nickelodeon will demonstrate the sort of offbeat dishes they seek,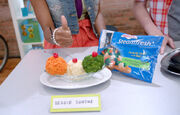 including the "veggie sundae," a scoop each of carrots, cauliflower and broccoli in a banana split dish, each scoop topped with a cherry.
Viewers will submit recipes, hoping they'll be invited to the set of a Nickelodeon show. The effort, which also includes print, in-store and digital advertising, will be promoted through the Facebook and Twitter accounts of both iCarly and Nickelodeon.
The campaign, which is the first advertising on Nickelodeon by Birds Eye, is being produced internally by Nickelodeon and by Weber Shandwick, Chicago, part of the Interpublic Group of Companies. It will cost an estimated $3 million. [1]
Twitter
Facebook Page
YouTube Channel
Photo Gallery
Click here to see the photos
Video Gallery
Click here to see the videos
External Links
References
Community content is available under
CC-BY-SA
unless otherwise noted.