Jurassic World: Dominion Dominates Fandom Wikis - The Loop
Play Sound
iBust a Thief is the 13th episode of Season 5 and the 107th episode overall.
Plot
After an iCarly webcast, Sam notices her laptop is missing. Soon, she messes up Carly's house and tries to find it, to no avail. Freddie gets the idea to access it remotely, so Sam gets the serial number (which she writes on a marshmallow) and they activate the webcam to see an old lady in front of it. They spend the next few hours collecting clues to the lady's location, and when they figure out where she lives, go over there to get the laptop back. Sam notices it is the wrong color though, and Freddie realizes he misread the serial number on the marshmallow. Disappointed that they are probably never going to find Sam's laptop, they return home. When she gets some old pizza from the fridge, Sam finds her laptop in the pizza box and awkwardly walks out without telling anyone.
Subplot
While Sam is searching for her laptop, she hits Spencer in the face with an old lunchbox. Inside, he finds many tickets for Funk E. Fester's he collected fifteen years ago to get their biggest prize, a plush dolphin, but then misplaced. When he goes to redeem them, the clerk tells him they are outdated and Spencer can't play for points in their new system because he's an adult and is not allowed in the gameroom without a child.
Since Gibby is annoyed with babysitting Guppy, Spencer takes Guppy to Funk E. Fester's so he can enter the gameroom. He spends the entire day playing while Guppy tries to kill the time somehow and eventually wins enough points for the dolphin just before closing time.
Guest Stars
Trivia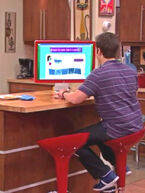 This episode is the penultimate (second to last) episode of iCarly.

This is the last regular, half hour episode of iCarly to air.

Dan Schneider voices the announcer for Bitty Big Heads in the introduction during the web segment Hungry Sam in a silly accent.
This episode aired on the 26th birthday of Drake and Josh star Josh Peck.
Mrs. Benson's voice was heard twice this episode but she never appeared in person.
The Vegetarian Spaghetti Taco was the winning recipe for the Bird's Eye campaign.[5]
When they show the Vegetarian Spaghetti Taco winner on the screen, the "mmmmm" that is heard is the same soundbite that appears at the end of every episode with the Schneider's Bakery logo.
Bloopers reveal that they had to do at least two takes of the scene where Gloria bashes Gibby with a lamp [6]
Allusions
Character Revelations
Throughout 4th and 5th grade, Spencer used a Spud Monkey lunch box.
When Spencer was a child, he enjoyed going to Funk E. Fester's because he liked the pizza and weiner nuggets.
Goofs
Spencer is thirty years old and he mentioned he won those Funk E. Fester's tickets when was ten. Yet Todd said those tickets are fifteen years old, which would not add up to Spencer's actual age. However, they may have still been using the tickets for five years after he won the tickets.
Funk E. Fester's closes at 10 PM but when the scene cut to the next one it showed outside and it looked like it was around noon. However, that scene could take place before that one.
The old lady with the blue Pearbook asks Sam if she wants her kidney back and grasps her abdomen in front on her left side - but kidneys are not located in front in the abdomen, they are located about half-way up a person's back.
Sam implies that she is Jewish after mentioning that she got her laptop from her Bat Mitzvah. However, in iSam's Mom, she tells the family therapist that she and her mom are not Jewish.

However, due to her telling Freddie not to inform her grandma about it could imply that she scammed her grandma.

Freddie misreading Sam's laptop's serial number is technically his fault, since he read the 4 as a 9.
If Sam's laptop was in the freezer for more than 3 days, it should have been damaged.
On June 1, 2020, the TeenNick airing episode of this started after the commercial break when they are at the Groovy Smoothie. So, the episode was only about 17 minutes, excluding the intro webshow and theme song.
When the show cuts to the scene showing the Funk E. Fester's building, at the parallel parking lot, it shows the Interstate 295 sign, despite that the iCarly show takes place in Seattle, Washington, but I-295, like the one in Jacksonville, Florida, is an auxiliary route of Interstate 95, which is located on the East Coast of the United States, starting from Miami, Florida in the south and ending in Houlton, Maine in the north. The Interstate Highway that bypasses Seattle is Interstate 405, which is an auxiliary route of Interstate 5, which travels the West Coast of the United States through California, Oregon, and Washington.
Running Gags
To be added
Series Continuity
Ms. Benson says "what the yuck!?" for the second time on the show, the first time being in the episode iSaved Your Life.
There is a Pak Rat machine in Funk E. Fester's (first seen in iStage an Intervention).
This episode marks the last appearance of Guppy.
Quotes
Sam: [looking through her backpack] Where's my laptop?
Carly: I don't know.
Freddie: Did you sell it and use the money to buy meat?
Sam: [Worried] I'm not kidding around, my laptop's gone!
Sam: That laptop's the only nice thing I've got! It was a Bat Mitzvah gift from my grandmother.
Freddie: You're not even Jewish.
Sam: [grabs Freddie by the collar, pulls his face up to hers so their noses touch] You tell my grandma that and I will break you.
Freddie: [nervously] Shalom!
Carly: [watching Sam rummage through drawers and such] I know you wanna find your laptop, but you're kinda destroying my home.
Sam: I'll clean all this up!
Carly: [to Freddie] Now, you see, I know that's not true.
Sam: [throws a lunch box behind her, hitting Spencer in the face]
Spencer: [falls on the floor, groaning] Oh my god.
[A loud crash is heard as Sam breaks down Freddie's door]
Mrs. Benson: What the yuck?!
Freddie: Did you tear my apartment to pieces?!
Sam: Yes, and your mother!
Freddie: WHAT?!
Todd: No adults allowed in the game room without a kid.
Spencer: I don't have a kid. I'm not even dating anyone.
Todd: No surprise there.
Carly: Sam doesn't have files, she has piles.
[Sam hands Freddie a marshmallow]
Freddie: [looking at Sam strangely, grabbing the marshmallow] You wrote your laptop's serial number down on a marshmallow?
Sam: [defensively] I didn't have paper.
Guppy: Happy birthday!
Gibby: It's no one's birthday.
Guppy: You're such a downer!
Spencer: Yeah!
Todd: Who is that kid?
Spencer: My little sister's weird friend's weirder little brother.
Guppy: Like you're normal?
Spencer: Hey!
Guppy: [To Spencer] I gotta pee!
Spencer: You can pee in the ballpit.
Guppy: YES!
Sam: [breaking down a door] I've come to take back what's mine!
Gloria: [placing her hand on her stomach] Are you my kidney donor?
Carly: [To Sam] Hey, where you going?
Sam: [after finding her Pearbook in the pizza box, walking out the back door] Nothing ...
Reception
This episode premiered to 3.374 million viewers.[2]
Gallery
| | |
| --- | --- |
| | See photos of iBust a Thief here. |
| | |
| --- | --- |
| | See videos of iBust a Thief here. |
References