Jurassic World: Dominion Dominates Fandom Wikis - The Loop
Play Sound
"Hey, since Albert died, can I have his hat?"
— Alexavier
i'M Cursed[1] is the 6th episode of Season 1 of iCarly (2021), and the 6th episode overall.
Synopsis
"Carly makes plans to spend her birthday alone in an attempt to stave off her dreaded birthday curse, but Spencer has different plans. Freddie tries to recapture his youth. Harper's idol leaves her awestruck."


— Official Paramount+ Synopsis
Plot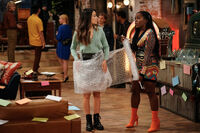 Spencer books a birthday trip for Carly to Snoqualmie Falls and invites everybody except Carly. Spencer explains that every year she sends everyone off on a trip in an attempt to avoid her "birthday curse" since something bad has happened on all of her birthdays, including Freddie getting served his divorce papers for both his marriages. Instead, she plans to spend her birthday alone with just a pie. However, Spencer has other ideas and brings Harper up to the studio to talk to her about a surprise party he's planning for Carly, despite her only wanting to do something small like a walk through a park, or just putting ice cream on her pie. Later on, Carly is home alone with her pie, and Spencer texts her asking her to water his plants for him since he forgot to before they left. However, when she turns the lights on in Spencer's apartment, she discovers Spencer's surprise party plan.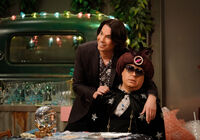 Carly demands that everybody leaves the apartment, but Spencer sends Duke to the door to stop people from leaving. Carly feels unsafe, so Harper makes her a dress out of bubble wrap to help out. Since she's still feeling nervous about her curse, Spencer walks her over to a fortune teller named Zagnut. She picks the death card out of the cards that were spread out, but Zagnut tells her that death is deceiving and actually signals rebirth. He helps Carly to beak free from her birthday curse using an object to represent it. She takes off her bubble wrap dress and runs to go use the microwave. Spencer thanks the performer, who's real name is Albert, for making Carly think that he broke her curse, but Albert suddenly dies of an aneurysm.
Spencer now has to hide the fact that someone died at Carly's party, and gives her a piñata to smash which gives the paramedics time to bring Albert away since Carly's never broken a piñata before in her whole life. However, Carly unexpectedly breaks the piñata. Feeling relived that her curse is over, she gives Spencer a hug, but Alexavier ruins it when he asks Spencer if he can have Albert's hat since he died.
Subplot I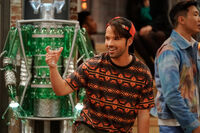 Principal Franklin arrives to deliver letters that Ms. Briggs' students wrote to themselves to be delivered on their 27th birthdays, including Freddie's letter despite his birthday not being for another few months. After reading his letter and realizing he's already done all the things he wanted to do as a 12-year-old, he decides to return to acting like his younger self for a short while. He shows up at Carly's party with two friends, and starts doing things that would be frowned upon as an adult, like drinking champagne right from the bottles on the tower, and vomiting on people. Millicent is eventually inspired to make her own letter to herself, but makes a video on her phone instead of making a written letter.
Subplot II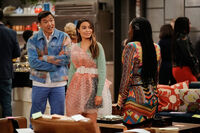 Harper meets her idol, Alexavier, at Skybucks. However, she is too nervous to talk to him so she has to write words to him using chalkboards. She tells Spencer about what happened, and Spencer tells her that he has known Alexavier for a long time and could invite him to Carly's surprise party to give Harper another chance. He shows up right after she makes Carly's bubble wrap dress and makes her freeze again. She also tries reading a sentence from a card that she wrote, with mixed success. Eventually, after Freddie vomits on Alexavier, she brings him to her apartment and plays a pre-recorded message on her phone explaining why she can't talk to him. He encourages Harper to finally tell him that she made Carly's bubble wrap dress. Since Freddie ruined his other shirt, Harper makes him a suit out of bubble wrap.
Guest Stars
Trivia
During the live tweeting session, writer Clay Lapari tweeted a number of behind the scenes trivia points.

When writer Clay Lapari was hired, the first thing he asked was "What did the goat do?"[17]

There were several takes of the scene where Mystic Zagnut (Albert)'s letter explodes. In the first take, the explosion was huge. The heat was intense and it blinded Joey Rich (who portrays Mystic Zagnut) for several seconds. He got scared and jumped Miranda and Jerry's lines. Director Anthony Rich noticed that it was too big and had the exploding paper cut down in size.[18]
During wardrobe fitting, Joey Rich tried on several head coverings, including a top hat and a silver turban.[19]
Allusions
Millicent telling Spencer that he "made the list" is probably a reference to former WWE wrestler Chris Jericho's "You just made the list!"
Carly references the 1990 film, Ghost when she says "Ghosts can be hot. Remember Patrick Swayze?". Swayze played an eventual ghost named Sam Wheat.
Spencer putting sunglasses on the deceased Zagnat is a reference to Weekend at Bernie's.
Character Revelations
Carly chipped her tooth on a banana on her 19th birthday, and got mugged for her Tamagotchi named Kuchipatchi on her 24th birthday.
Freddie got served his divorce papers for both of his marriages on July 24th, which is Carly's birthday.
Carly left sparklers in her locker at Ridgeway Junior High School.
Freddie keeps a collection of items that his mother doesn't allow him to have at his apartment in Spencer's apartment. This includes sugary cereal, nunchucks, and a skateboard.
Spencer once had dinner with the Dalai Lama, who is a terrible tipper.
Principal Franklin has since retired.
Goofs
After Carly throws flowers in the trash, some pieces of the flowers are on the floor next to the trash can. In the next shot, they are gone.
Despite Freddie's birthday being in a couple months, the official website listed his birthday as February 4.
It is unknown how Principal Franklin knew which apartment Carly lived in since she moved out of Spencer's apartment.

It's entirely possible he asked around for her address or googled it.
Running Gags
Harper being speechless when Alexavier talks to her.
Series Continuity
Carly mentions her 16th birthday when the gummy bear lamp burned down her room in iGot a Hot Room.

Additionally, the goat incident from her 15th birthday is mentioned again, but we still don't know what exactly the goat did.

Duke Lubberman last appeared in the Season 1 episode iHatch Chicks, which aired 13 years prior to this episode.
Principal Franklin last appeared in iOpen a Restaurant.
This is the first appearance of Principal Ted Franklin in the revival.

While Ms. Briggs did not appear, she was mentioned and revealed to have assigned her class to write a letter to themselves to read 15 years into the future. She was going to hand-deliver them, but cancelled as she hates Carly and Freddie.

Carly's birthday was last celebrated in iGot a Hot Room.
Though not the first time someone has thrown up onscreen, this is the first time that vomit is actually shown due to the revival being aimed at mature audiences.
This is the third episode in the revival which does not feature an iCarly webshow.
Quotes
Carly: Hey, Freddie, when did you get served your divorce papers for both your marriages?
Freddie: ...July 24th, I rescind my "woo."
Principal Franklin: Happy birthday, Carly Shay!
Carly: Principal Franklin, hi! It's so good to see you. [abruptly closes the door] Curse.
Freddie: Her secret stash of things my mom won't allow in our apartment.
Millicent: I'm telling you there isn't one.
Spencer: It's in the drawer across from the sink.
Millicent: You just made the list!
[Freddie looks through Millicent's stash]
Freddie: Sugary cereal, nunchucks, a video game where you play someone playing a violent video game... [gasps] Ohh... This is perfect.
Harper: No, there is nothing sadder than an adult man on a skateboard.
Freddie: It's not a skateboard, it's a way of life. [pours cereal into his mouth, then skateboards away] Later, haters.
Everyone: SURPRISE!
Carly: [pauses] What have you done?!
Spencer: Hey, everybody, can I get your attention? It's time for grown-up piñata!
Carly: What makes it grown up?
Spencer: Oh, it's filled with gift cards and lottery tickets.
Spencer: Who wants to watch Freddie crowd surf?
Freddie: I do!
[everybody chants "Freddie"]
Related Cast Posts
On July 1, 2021, in response to a fan posting a screenshot of the Season 1 trailer asking "IS THAT DUKE FROM THE BABY CHICKS EPISODE ??", Nathan quote tweeted "YOU BET YOUR KEESTER IT IS."
On July 6, 2021, Miranda tweeted "New episode of @iCarly this Thursday o @paramountplus! It's called iMCursed. Don't ask me what the goat did 😂".
On July 8, 2021, Nathan tweeted "The work day is over. You're in your favorite sweats that you haven't washed in 3 months. Hard-earned adult beverage in hand. You head to @paramountplus to watch the newest episode of #iCarly that dropped today. You are..." accompanied by a gif of Freddie saying "Living the dream."
Reception
International Premieres
Platform
Premiere date
Title
Paramount+ Australia
TBA
i'M Cursed
Paramount+ Canada
TBA
i'M Cursed
Paramount+ Latin America

Argentina
Bolivia
Brazil
Chile
Colombia
Costa Rica
Dominican Republic
Ecuador
El Salvador
Guatemala
Honduras
Mexico
Nicaragua
Panama
Paraguay
Peru
Uruguay
Venezuela

TBA
Estoy maldita (Spanish)
Estou Livre (Portuguese)
Paramount+ Nordic

Denmark
Finland
Norway
Sweden

TBA
i'M Cursed
Gallery
| | |
| --- | --- |
| | See photos of iM Cursed here. |
| | |
| --- | --- |
| | See videos of iM Cursed here. |
References