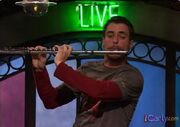 Greg Patillo (born July 1, 1977) is a beatboxing flutist (or flautist) seen in the episode iHeart Art. He is said to be Sam's cousin who's not in jail. He was on an iCarly webcast in which Carly and Sam showed all Spencer's sculptures so he'd feel proud of them; he provided background music.

He was originally from Seattle, Washington but now operates in Brooklyn, New York. Pattillo is recognized throughout the world for his redefinition of the flute sound. He was lauded by The New York Times as "the best person in the world at what he does."[1] His performance videos on YouTube, showcasing "beatbox flute," have been viewed more than 20 million times.[2] For example, his Inspector Gadget theme song remix was viewed 23,687,499 times, as of February 19, 2011.
Biography
Patillo earned both his bachelor's and master's degrees from the Cleveland Institute of Music as a student of Joshua Smith, the principal flutist of the Cleveland Orchestra. After a summer spent as the acting principal flute of Guangzhou Symphony Orchestra, Patillo moved to San Francisco where he was a founding member of the Collaborative Arts Insurgency and the 16th and Mission Thursday night gathering for performers. Patillo enjoys freelancing as a soloist, and is the flautist of the group PROJECT, the Lalo Quintet, as well as a featured performer at "The Box" in New York City.
In June 2007, Patillo was named one of 21 winners of the New York Metropolitan Transit Authority's "Music Under New York" program. Among other things the award gives Patillo an official permit, of sorts, to play music in the subway.
Patillo was also seen on an episode of Nickelodeon's TV series, iCarly (and was said to be Sam's cousin that wasn't in jail) and has videos and recordings on iCarly.com.
Patillo was also on an episode of Lily Allen and Friends in the UK shown on BBC Three.
References
The External links for Greg Patillo