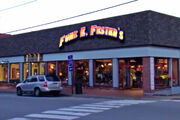 Funk E. Fester's
is a parody of
Chuck E. Cheese's
that appears in
iBust a Thief
. In the episode,
Spencer
finds an old lunch box with many tickets to redeem inside of it from when he was ten years old, and decides to go to the pizza place to redeem the tickets to get the biggest prize, a big stuffed dolphin that he always wanted. Spencer finds out that his tickets are no longer redeemable, and that Funk E. Fester's uses digital tickets now. Spencer decides to go win digital tickets to get the dolphin, but he is not allowed in without a child. Seeing that
Gibby
was annoyed that he had to babysit
Guppy
, Spencer takes Guppy to the pizza place with him so he could win the prize. Spencer wins all the digital tickets he needed just before it closes, and he gets the stuffed dolphin.
Trivia
A Pak-Rat machine can be seen inside the game area of Funk E. Festers.
There have been numerous parodies of Chuck E. Cheese's in sitcoms. One location was mentioned in Dan Schneider's other show Drake & Josh called Chuck E. Cheddar's and the other being Buck E. Duck's featured in the '90s sitcom Sister, Sister.
Community content is available under
CC-BY-SA
unless otherwise noted.