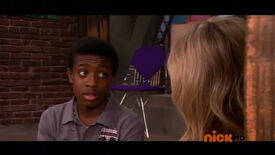 Fleck is Dave's friend and makes comedy videos with him. In the iCarly episode, iQuit iCarly, the boys begin to fight after Fleck spray paints Dave's dad's car purple. They reunite after saving Carly and Sam from near death, making amends as a result.
They are shown to be good friends. Fleck has a personality similar to Sam's. He sometimes act recklessly without considering the consequences, and thinks entertainment is most important to a show, not safety, and has good physical strength. He also appears to harbour a dislike for Freddie, as he agreed with Sam that an idea for the webshow that she came up with, which involved hurting and humilitating Freddie, would've been epic.
He is named after iCarly writer, Matt Fleckenstein (nicknamed "Fleck"). He was played by Daven Wilson.
Gallery
Community content is available under
CC-BY-SA
unless otherwise noted.