Ernie
is
Sam
's old dance coach. Back when Sam competed in beauty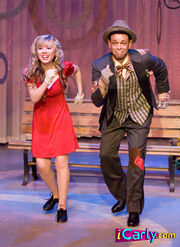 pageants as a little kid, Ernie was her dance coach, and he claims that Sam was the best of all his dance students. After Sam entered the Miss Teen Seattle-pageant seven and a half years after being suspended from pageantry for supposedly pushing
LeAnn Carter
down a flight of stairs, Sam and Ernie reunited just before the start of the talent portion of the competition. Sam did a dance routine for it, and Ernie acting as her partner--they did something that Sam referred to as "the train station routine." The performed it flawlessly, and Sam won first placei n the pageant.
Ernie made an appearance in the episode, iWas a Pageant Girl. He was also in the group dance in iDream of Dance.
Trivia
Ernie was played by Lane Napper, who has choreographed for Dan Schneider's other show, Victorious, along with playing the guidance counselor, Lane, on that show. Napper also appeared in the Drake & Josh episode, "Smart Girl" and "Really Big Shrimp."
Napper also choreographed the dance scene from the episode. He also choreographed the dance scenes in a previous episode, iDream of Dance and performed as a background dancer as well.
Community content is available under
CC-BY-SA
unless otherwise noted.