Doctor Strange in The Multiverse o Madness - The Loop
Play Sound
Emily is a young Sunshine Girl who made her only appearance in the episode, iOwe You.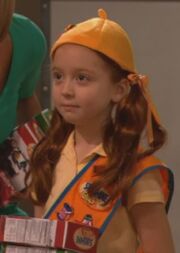 Accompanied by single mother, Emily came to Spencer's apartment seeking to sell Sunshine Girl Fudge Balls AKA parody of Girl Scout Cookies. She was hoping to sell the most fudge balls in her troop so she could win a bicycle.
However, Emily was painfully shy to the point where she would cry and run away whenever she was faced with talking to a stranger. She fled from Spencer, despite his reassuring manner of trying to help Emily win a bike.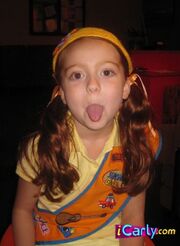 Hoping to impress Emily's attractive (and single) mother, Spencer offered to help Emily sell fudge balls, saying that he used to help Carly sell them when she was a Sunshine Girl.
Later, Emily seemed to be comfortable around Spencer, presumably after getting to know him. However, she fled again when faced with the idea of selling fudge balls to customers at a supermarket.
Spencer's efforts met with little success at first. Two older Sunshine Girls stole his place at the market, and when he tried to sell them at a shipyard, the dockworkers threw clams at him. Eventually, Spencer came up with the idea of sending fudge balls to all of the children who had sent money to Sam (after she made a request for it on iCarly, unaware that it's illegal to solicit money from minors over the Internet, unless a product or service is provided in return). That way, Sam could keep the money sent to her, and Emily would sell the most fudge balls in her troop.
The plan worked and Emily won the bicycle.
Emily was portrayed by Piper Mackenzie Harris who is perhaps best known for her role as Penny who is the little girl who took home one of the guinea pigs in the 2009 film G-Force.