We're Getting Mutants in the MCU - The Loop
Play Sound
Daniel James "Dan" Schneider (born Friday, January 14th, 1966) is an actor, writer, and producer of movies and television. He is the president of his own production company called Schneider's Bakery, Inc.
Dan Schneider is sometimes credited as Daniel Schneider, Daniel J. Schneider, or Daniel James Schneider. His wife, Lisa Lillien, is the author of the Hungry Girl cookbooks and the host for the show. He went to Memphis University School (MUS) for a few years, but graduated from White Station High School in 1982 and was the president of his senior class. He usually uses the name "DanWarp" on Twitter, Facebook, Blogger, and many other social media platforms.
Acting career
In the mid-1980s, Schneider co-starred in several movies including Making the Grade and Better Off Dead starring John Cusack, which has become a popular cult classic.
Schneider also co-starred in the movies The Big Picture starring Kevin Bacon and Happy Together starring Patrick Dempsey. He also starred in Hot Resort with Bronson Pinchot in 1985.
In 1986, Schneider became nationally well-known when he landed the role of Dennis Blunden on the ABC television sitcom Head of the Class. The series ran for 5 seasons from 1986 to 1991. A photograph of Schneider as Dennis can be seen on the sign held up by the studio guard in the "iGo to Japan" movie. Schneider can also be heard in the special as the announcer for the iWeb Awards. He is heard in several episodes, including iSam's Mom (where he shouts "We're live" in the scene in the Groovy Smoothie).
In 1992, Schneider starred in the series Home Free which starred Matthew Perry, later of Friends fame. Schneider played best friend to Perry's character.
Later, after becoming a writer/producer, Schneider began limiting his acting roles to ones he wrote for himself in his projects, produced, such as "Mr. Bailey" in Good Burger along with other Nickelodeon stars Kenan Thompson and Kel Mitchell (a movie written and co-produced by Schneider). He sometimes makes cameos in episodes of the television shows he creates, as when he played Angus, in Kenan & Kel. He was also seen playing an opera singer in a later episode of that show.
Schneider also appeared in one episode of his show Zoey 101 where he played the crazy cab driver in the TV movie Chasing Zoey.
In iCarly's iTake on Dingo, he played the head of Charles Dingo.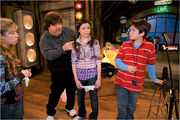 In iBeat the Heat, he was the unseen character who yells out, "Stupid speech!" after the mob rushes out the door at the end when the power comes back on.
In iGo to Japan, he was seen on one of the cards the Japanese security guard had.
He made a brief on-screen appearance as a Secret Service Agent in IMeet The First Lady.
In the iCarly series finale iGoodbye, he appeared as the motorcycle mechanic Meekalito.
Writing/Producing career
Television
Schneider's career shifted directions in 1993, when he began writing and producing a string of highly successful television shows.
Schneider is the creative force behind the following hit TV series:
Series

Run

Description
Sam and Cat
2013-2014 Nickelodeon
Staring Jennette McCurdy as Sam Puckett from iCarly and Ariana Grande as Cat Valentine from Victorious, the series follows Sam's life in Los Angeles after leaving Seattle after her best friend Carly Shay left for Italy. It series was short lived as it only had one season due to cancellation.
Victorious

Nickelodeon: 2010-2013


TeenNick: 2010

Starring Victoria Justice, Daniella Monet, Leon Thomas III, Ariana Grande, Avan Jogia, Elizabeth Gillies and Matt Bennett. Victorious aired its pilot episode on March 27, 2010. The show revolves around Tori Vega, portrayed by Victoria Justice, an aspiring singer who attends a performing arts high school, while getting into wacky, screwball situations on a daily basis. The premiere on March 27 was reported to be the highest-rated premiere for a live-action series in Nickelodeon history, and the second highest post-KCA premiere, after Penguins of Madagascar. The show won the Kids Choice Award in 2012 for Favorite TV Show. The final episode aired February 2, 2013.
iCarly

Nickelodeon: 2007- 2012
The N: 2008-2008


TeenNick: 2009–present

Starring Miranda Cosgrove, Jennette McCurdy, Nathan Kress, and Jerry Trainor. iCarly launched in September 2007, and is a great success: the most popular live-action show Nickelodeon has ever aired. iCarly was nominated for a Kids' Choice Award for Favorite TV Show in its first season, competing against Hannah Montana and Drake & Josh (another show by Dan Schneider). It won the award in its second, third, and forth,2009, 2010,and 2011 respectively. iCarly is about a girl and her two friends who makes a web-show, and become famous because of it ( http://www.iCarly.com ). After its premiere, this series has cameo appearances in other TEENick Shows Schneider has created (Drake & Josh & Zoey 101). Schneider is currently working on this show. He has been requested to do 26 more episodes which is Season 4 for iCarly, and now another 13 episodes for Season 5, giving a total of at least 109 episodes for this series.[1][2]
Zoey 101

Nickelodeon: 2005-2008
The N: 2008-2009


TeenNick: 2009–present

Zoey 101 was nominated for an Emmy Award in 2005. The series star, Jamie Lynn Spears, is the younger sister of singer Britney Spears. Jamie Lynn won the Kids Choice Award for "Favorite Actress" in 2006, for her starring role in Zoey 101. In 2005, Zoey 101 was the #2 television show in America with the young teen audience, second only to American Idol. Zoey 101 was Schneider's first single-camera format program. Schneider also guest-starred in a Zoey 101 movie "Chasing Zoey." He played Lola Martinez and Vince Blake's cab driver to the prom but never actually got them there. It is believed that the Zoey 101 character Jeremiah Trottman played by Creagen Dow is patterned after a high school friend of Dan's.
Drake & Josh

Nickelodeon: 2004-2007
The N: 2008-2009


TeenNick: 2009; 2010–present

Drake & Josh has won multiple Kids Choice Awards, and is one of Nickelodeon's all-time most popular series. It starred three actors from The Amanda Show, Drake Bell, Josh Peck, and Nancy Sullivan. The final episode aired September 16, 2007. However the film Merry Christmas, Drake and Josh premiered December 5, 2008 which was a year and 4 months after the original series ended.
What I Like About You (TV series)

WB: 2002-2006 The N:2008-2009- TeenNick:


2009–present

What I Like About You starred Amanda Bynes and Jennie Garth, formerly of Beverly Hills 90210. The show had a four-year successful run on the WB network, just before the WB and UPN merged into the "CW" network.
The Amanda Show

Nickelodeon: 1999-2002
The N: December 2008-August 2009


TeenNick: 2011–present

Amanda Bynes have won multiple Kids' Choice Awards for

The Amanda Show

. Although the show ended production in 2001, it had continued to air in reruns on Nickelodeon through 2007. Schneider himself often appeared on The Amanda Show as Mr.Oldman who was frequently the victim of strange prank phone calls.
Kenan & Kel

Nickelodeon:


1996-2000


The N: 2007-2009


TeenNick: 2011–present

Kenan & Kel was a show about two boys living in Chicago, Illinois. Kenan is a high school student while Kel is a clumsy, orange soda-loving friend. Schneider guest starred in an episode.

All That

Nickelodeon: 1994-2005
The N: 2008


TeenNick: 2011–present

All That is a sketch comedy show, often referred to by the media as the "little brother" of Saturday Night Live. All That won Cable Ace Awards and multiple Kids Choice Awards. It was one of the longest-running live action series ever on Nickelodeon. The show featured over a lot of different comedy sketches. It also featured musical appearances by artists such as Justin Timberlake, Britney Spears, Barenaked Ladies, Usher, Mandy Moore, Drake Bell, 'N Sync, Avril Lavigne, etc. Schneider quit All That after the first 4 seasons to run The Amanda Show. The show's ratings soon declined and it was canceled in 2000-2001. Nickelodeon then asked Schneider to come back and revamp All That in 2001. Schneider agreed and then returned to Nickelodeon in 2002. The show was relaunched, and ran for another 4 successful seasons until Schneider left the show again in 2004 (after filming the 10th Anniversary & Season 10), bringing All That to the end of its 10 season run.
Movies
Schneider has also been involved in movies. He wrote the movie Good Burger which starred Kenan Thompson and Kel Mitchell (and featured Schneider himself in a supporting role). The film was a successful moneymaker for Paramount Studios, and has begun to enjoy "cult film" status over recent years. Good Burger (the movie) was spun off from a popular comedy sketch which Schneider produced on his Nickelodeon television show, All That.
Schneider also wrote and co-produced the movie Big Fat Liar which starred Paul Giamatti and Frankie Muniz. The film was a hit for Universal Studios, earning nearly $50 million in domestic box office alone.
As of 2007, Schneider has movies in development at both Warner Bros. Studios and Nickelodeon's movie division.
Personal life
In 2002 Schneider married Lisa Lillien, the founder and president of Hungry Girl, a free daily email that features dieting tips, recipes, food finds, and food news. He refuses to accept changes to iCarly from fans, saying that he is not allowed to do so.
Dan also has his own blog, where he posts updates on his shows and fun facts about some episodes of his shows.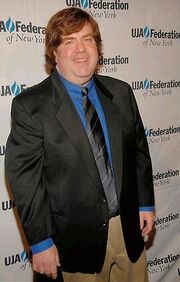 He asked the entire casts of both iCarly, and Victorious to accompany him to his home town of Memphis, Tennessee on May 14, 2011, to raise money for St. Jude Children's Research Hospital that helps children who have cancer.[3][4]
Trivia
He was shocked to see his Spaghetti Tacos creation become a fast-growing reality, and then mentioned on the cover of the 'Food & Wine' section in the New York Times (Oct. 6, 2010).[5][6]
He likes to create unique brands of every product from food to electronics for his shows, but they are intentionally mimicking something real (i.e. PearPhone). Most things are close to their real-life counterparts and just changed slightly to both avoid licensing problems, but still keep the audience aware of what the characters are using. Companies, buildings, and other things sometimes feature his own name (i.e. "Schneider's Pickles").
He was featured and interviewed with Victoria Justice, (Miranda Cosgrove also shown briefly) in ABC-TV's Nightline late-night show about Hollywood's upcoming, Young Teen Stars.[7]
Dan has a bag of pistachio nuts in his closet. (http://danwarp.blogspot.com/2011/04/fun-facts-iomg-iomg-iomg.html, Now, don't take what I just said as some "major clue" as to what happens in iOMG, because you don't know what's going to happen (unless you're hiding in my closet – and if you are, then please don't eat my pistachio nuts).
Dan is known by the cast for his practical jokes and pranks he pulls on them.
Dan has said before that it's natural to him when he hears the word "a scissors".
Dan Schneider is Jewish .[8]
In most of most of his TV shows, he uses the main character(s)' name(s) in the title, and has the actor/actress sing the theme song.
In between breaks, he likes to pull pranks on the cast members.
A decade after iCarly ended, Jennette McCurdy revealed that Schineider forced her to drink underage.[9]

Contact him at: DanWarp@gmail.com[10] or leave a comment here.
Twitter
Facebook Page
Youtube Channel
Photo Gallery
Click here to view more Dan Schneider photos
References
External links