Obi-Wan Finale - The Loop
Play Sound
Carly and Harper are main characters of iCarly (2021). They are best friends and roommates who live in Bushwell Plaza
Relationship
Carly and Harper first met at Skybucks Coffee Bar. They bonded over The Real Widows of Wisconsin during Harper's break. Carly later invited Harper to live with her in her apartment.
Over the course of the first season, they are shown to support each other with their life goals, but their first real fight is in IGot Your Back when Carly lets Harper design a dress for her upcoming event. Carly however, does not like the designs until she finds Harper used her old dress (from iGoodbye) and is delighted, but Harper tells Carly that the dress was not usable as they never did a fitting so Harper helps Carly talk when the dress starts to rip. Then in iNeed Space, the two clash when they can't work in the same area anymore, but figure it out by the end. In the season 1 finale iReturn to Webicon, the two discuss their problems when they are stranded with Freddie, Millicent, Spencer and others on their way to Webicon. Carly realises that Harper likes her boss Dutch and Harper advises Carly on her love triangle between Beau and Wes.
Facts
Timeline
Additional Names
Nicknames for each other
Carly's Nicknames For Harper
Harper's Nicknames For Carly
BFUMCER (Best Friend Unless My Cousin Ever Resurfaces) (iGot Your Back)
Moments
Season 1 Moments
It's revealed they are roommates.
Harper comforts Carly over her break up with Beau.
Harper convinces Carly to go to Spencer's party.
Harper (and Spencer and Freddie) try to help Carly find her hater.
Carly took bite her spicy meatball with her expression as Harper took picture from her smartphone.
Harper sends picture to Carly with her on the spicy meatballs.
Harper came up an idea to sell merchandise with her t-shirt of Carly's spit on the meatball.
This is the first time they have a fight, but they eventually make up.
Carly tells Harper about the invite to a fashion show.
Harper offers to design Carly's dress for the event.
Carly is happy when she realises Harper used her old dress.
Harper helps Carly when the dress starts to rip.
Harper tells Carly she won't let go of her when the dress is ripping.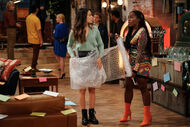 Harper puts bubble wrap around Carly's waist.
Harper tells Carly to do a catwalk to show her new "bubble wrap" look.
Carly and Harper share their workspace together in iCarly studio.
Carly and Harper argues about their workspace.
Carly has told Harper about her ex-boyfriend Griffin.
Carly helps Harper when she is getting ready for her interview.
Harper tries to warn Carly when she realised Griffin conned her into selling fish food.
Harper wants to punch Griffin for using Carly.
Carly is supportive of Harper when she tells her she quit her job.
Harper tells Carly and Freddie about her former college roommate, Brooke.
They plan on going on a girls trip together.
They both feel like a third wheel in their situations.
They face time each other and have a virtual girls trip.
They have a girls lunch with Maeve.
Harper preps Carly's outfits for Webicon.
They talk about their relationships.
Carly can tell that Harper is interested in Dutch.
Season 2
Carly texts Harper
Harper leaves Millicent to go and support Carly in court.
Carly wants to do some wild things with Haper
Harper wants and tries to protect Carly from doing things she will regret.
Harper asks the tatoo artist to do a fake one for Carly as a way to protect her.
Harper helps Carly and comforts her when she feels low.
Harper is supportive of Carly in the ring.
Trivia
They are roommates.
They met when Harper was working and they bonded over a show.
Quotes
Gallery
External Links
References