Boba Fett Returns - The Loop
Play Sound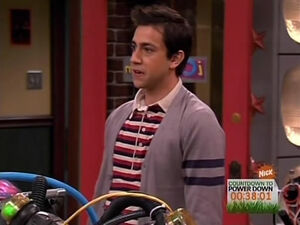 Calvin (Cal") Pressler was a guest star character in the episode iGo Nuclear. He helps Carly with her Green Week science project for school to impress Carly's science teacher. Spencer hired Cal who lied saying he was a resource reactor inventor. His criminal acts are very infamous since he doesn't look like a criminal. He builds a project reactor for Carly, and she gets an A+ from her science teacher, so he with Carly, Carly's science teacher, Spencer, Sam, and Freddie go to the Groovy Smoothie.
Later, the police find Cal at the Groovy Smoothie, and chase after him when Cal runs out of the cafe and jumps through the glass door to escape. The chief police officer reveals to Sam, Mr. Henning, Freddie, Carly, and Spencer that Cal had bought black market uranium rods to create nuclear power, which reveals that Cal built a nuclear powered reactor, and Carly had to go to the "Root and Berry" retreat in the end with Freddie for extra credit.
Many people seem to also like his haircut, but no one knows where he gets it from. It is also known that Spencer met Cal in the laundry of the Bushwell Plaza. Cal also has no brothers, because Sam was looking for a boyfriend by asking him if he has a teenage brother.
He is portrayed by Jake Siegel.