Bobby is a Ridgeway student who appeared in iSaw Him First.
Sam had set up a "kissing booth" in the Ridgeway hallway, which she claimed was for charity. In reality, she was trying to get Shane to kiss her so that she would be able to date him (per the agreement Sam had with Carly).
However, Shane didn't have a dollar with him, so Sam told Bobby to lend him one. While Bobby was searching his pockets, the bell rang for class, and Shane had to leave.
Bobby then said that he didn't have a dollar, and asked Sam what he could get for 50 cents. Sam said that she would spit on him. Bobby quickly said, "Deal," after which Sam said, "Get out of here!" and sprayed him with a water gun, sending him running.
Bobby was played by
Andrew Sibner
. He had previously appeared on another
Dan Schneider
comedy,
Zoey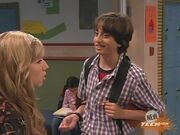 101
.
Community content is available under
CC-BY-SA
unless otherwise noted.