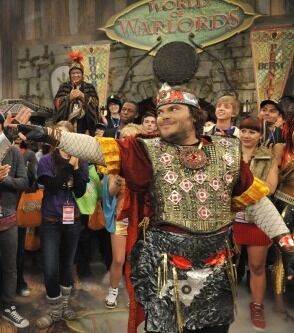 Aspartamay is a character from World of Warlords (which is a parody of the video game, World Of Warcraft) who is mentioned in iStart a Fanwar. There is a costume of him worn by Jack Black. He is said to be the supreme warrior of the Pernicious Berm, and is also said to be a huge, worthy enemy of Aruthor (cosplayed by Spencer).
In iStart a Fanwar, Spencer dresses up as Aruthor for Webicon and encounters a man in an Aspartamay costume, played by Jack Black. After a long fight, Carly, annoyed, "kills" Aspartamay by ripping off the "brawny jewel" (necklace) containing his life force. According to Freddie, (who is just as obsessed with World of Warlords as Spencer is) Aspartamay could reanimate, although it would be complicated to do so. He tries to explain how it would require the combined forces of 99 people/creatures, whereupon Sam interrupts him, saying that Aspartamay was just going to die.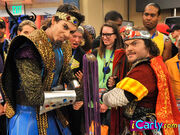 It is unknown whether Aspartamay is a playable character or an NPC (non-player character), although it is widely assumed that he is the latter.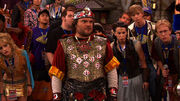 Trivia
In the MMORPG World of Warlords, Aspartamay is a vegetarian according to Spencer (unlike Jack Black, who ate a corn dog leaving a mustard stain on the costume)
Jack Black's costume has 13 Copper rings, however Aspartamay only has 12 (one for each council member)
Community content is available under
CC-BY-SA
unless otherwise noted.