Wiki Targeted (Entertainment)
Play Sound
4th of July Party Throwin' Tips is an iCarly.com blog written by Carly Shay about tips for throwing a 4th of July party.
Blog



4th of July Party Throwin' Tips
Greetings, Americans! Happy Fourth of July! Or as we at iCarly sometimes like to call it... July 4th! We're so creative!
Anyway, last year we had a 4th of July party that was very interesting (to say the least). So if any of you're thinking about throwing an Independence Day bash this weekend, here are some tips that we learned (the hard way) from last year's shindig:
DON'T let Sam near the BBQ. We learned later her personal motto is, "When Mama smells meat, she's gotta eat!" Forty-seven ribs gone in 6.5 minutes.
DO mess with Lewbert! This year, we signed him up for the Army. He starts boot camp on Monday -- he doesn't know it yet (hehe).
DON'T invite Sam's mom. She wore a stars and stripes bikini. We'll never be able to look at the American flag the same way again!
DO warn your neighbors BEFORE you re-enact the Revolutionary War in your apartment hallway!
DON'T let Andy McStein order pizza for you. Last year he ordered pizza with peanut butter and tuna on it. Actually... don't invite Andy McStein to your party at all!
DO your grocery shopping EARLY! Last year, we waited until July 4th and the only thing resembling a hot dog we could find was an imitation tofurkey dog. I don't care what the package says, it DOESN'T taste JUST like a hot dog!
DON'T let Freddie have too many Fourth of July cupcakes. We still remember when he sugar-high texted his ex, Valerie. He felt guilty and dated her for two days. They broke up when she tried to steal his 3-terabyte external hard drive.
DO pour hot sauce in Freddie's Wahoo Punch when he's not looking. Then, DO laugh while he chokes it up. (Sorry, Sam wrote that one!)
DON'T leave Spencer in charge of the fireworks! The guy can accidentally set ANYTHING on fire -- except fireworks, apparently! He didn't succeed in lighting the sparklers, but he DID set his shoe on fire.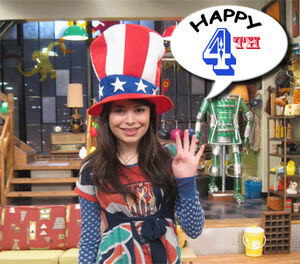 Credit: © 2012 Viacom International Inc. All Rights Reserved
External Links